A Lot Like Love
(2005)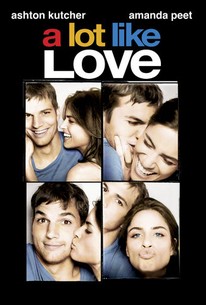 Movie Info
Two friends who've convinced themselves they would never make a good couple discover they might just be wrong in this romantic comedy. Oliver (Ashton Kutcher) and Emily (Amanda Peet) first met when they were college students sharing a flight from California to New York; Emily spontaneously seduced Oliver on the plane, and they spent the next few days together in the city. When they parted, however, Emily decided not to pursue a relationship with Oliver, even though he was obviously interested. Over the next several years, circumstances kept putting them in one another's paths, and over the years Oliver and Emily became close friends and confidantes. Both are still certain, though, that they're entirely wrong for each other on a romantic level. However, after nearly a decade, with both Oliver and Emily edging into their thirties, they begin to wonder if they've allowed a great opportunity to pass them by. A Lot Like Love also stars Kathryn Hahn, Ali Larter, and Kal Penn. ~ Mark Deming, Rovi
News & Interviews for A Lot Like Love
Critic Reviews for A Lot Like Love
Audience Reviews for A Lot Like Love
It was enjoyable to watch and it wasn't just your typical Hollywood rom-com and it's worth your time. A must see!
Bethany Murphy
Super Reviewer
½
A decent little romantic film, although labeled a Rom-com most of the time it feels more of a drama with a lot of light hearted moments than truly laugh out loud scenes. It did remind me of Serendipity quite a bit, would have to admit that is by far the better film. One of the best of the genre in my opinion. Still this has a good cast and it was an enjoyable to watch, without being the typical hollywood Rom-com most of the time. Definitely worth checking out.
It's about a boy and a girl who meet on a flight from LA to NY. Ashton plays Oliver a goal oriented guy who thinks he'll have everything he wants in the next 6 years if he works hard for it and Amanda Peet plays Emily, the girl who is supposed to call him after 6 years to find out if everything he aimed for really happened. Throughout the next 6 years or so they meet up here and there in different stages of their lives. I LOVE this movie, maybe because I can relate to it in a way. It's about always the wrong timing with a certain someone in your life and finding a way to make it work. I enjoyed how they started off with the past, the years in between, and into the present. I'm usually not a fan of Ashton Kutcher movies, but he did well in here and wasn't annoying. The characters also had great chemistry, which really made it work.
A Lot Like Love Quotes
There are no approved quotes yet for this movie.