Lost Junction
(2003)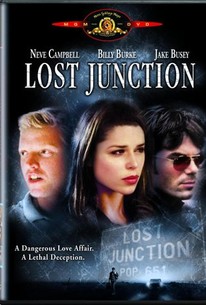 AUDIENCE SCORE
Critic Consensus: No consensus yet.
Movie Info
Peter Masterson's Lost Junction stars Billy Burke as Jimmy McGee, a hitchhiker who becomes involved with Missy Lofton (Neve Campbell) after she offers him a ride. He discovers that her husband's dead body is also along for the ride in the trunk. Jimmy has fallen for Missy and helps her get rid of any trace of the body. Her unstable boyfriend (Charles Powell) and Jimmy's handicapped friend (Jake Busey) round out the cast. Lost Junction was screened at the Santa Monica Film Festival.
Critic Reviews for Lost Junction
Audience Reviews for Lost Junction
While trying to fix his Mustang on the road, Jimmy McGee (Billy Burke) gets a lift in the Cadillac of a sweet lady, Missy Lofton (Neve Campbell). Missy invites Jimmy to stay at her house in Lost Junction, a very small town in Mississippi with a population of 652 locals, while his car is being repaired by the mechanic Shorty (Michel Perron). Missy asks Jimmy to help her to take her savings in the bank, and later they travel together to New Orleans to meet Missy's boyfriend Porter (Charles Powell). While on the road, Missy discloses to Jimmy that the body of her husband Doc is in the trunk, but Jimmy is in love with Missy and stays with her. Jimmy returns to his hometown, but his best friend Matt (Jake Busey) convinces him to return to New Orleans for Missy. Later the truth about the death of Doc is disclosed. "Lost Junction" is not a great movie, actually it is very weird; the original screenplay has flaws, but also romance, thriller, action and black comedy in a perfect pace; adding the pros and con, in the end I really liked this movie a lot. The cast is very nice, with Neve Campbell very beautiful and performing a sweet and charismatic character that will certainly make the viewer falls for her. Billy Burke has also a great performance and shows a magnificent chemistry with Neve. Jake Busey and practically all the characters are good people from the country, with the exception of the stressed banker, the villain Porter and the dead husband Doc. The music score is excellent, with wonderful blues and country music. Surprisingly there are some bad reviews in IMDb, but I believe this road-movie is a great entertainment. 3 Stars 4-1-14 And Thats No April Fools
Bruce Bruce
Super Reviewer
Lost Junction was a little slow for me. I also thought it was a mistake for the film-makers to deviate away from Missy's storyline and over to that whole Jimmy-Matt one. At the point where Neve went on her fake guilt-trip-prison thing, that's when I just wanted it to hurry up and end. And the real story behind Doc's death didn't seem interesting enough to warrent all the secrecy and mystery that we had to endure the entire time. But I think they chose a good place to film - the small town setting worked for the story. And on the whole, Neve was pretty good too.
Robert Fearon
Super Reviewer
Lost Junction Quotes
There are no approved quotes yet for this movie.