Lost in Space
(1998)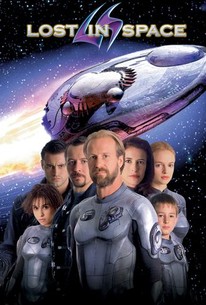 Movie Info
This $90 million remake of the campy 1960s TV show takes place in 2056. The Robinson family is searching unexplored space but gets lost. The family encounters many problems but they are not without their robot ("Danger Will Robinson!") to help them out. Escapades include a horde of teethy spiders.
News & Interviews for Lost in Space
Critic Reviews for Lost in Space
Audience Reviews for Lost in Space
Hey you remember Matt LeBlanc? he was in Friends for virtually the entire of the 90's and just like Jennifer Aniston he simply can't shake his character, yes...him. So this is an adaptation of the rather lame US TV series of the same name which always kinda seemed like a rip off of Star Trek with kids. Being your typical 90's action flick the film is chock full of terrible CGI, from a really nasty looking space alien monkey thing to lots of shockingly bad looking light and space effects. There is a combination of model work which in places does look reasonable but alas most other areas of the film such as the sets are really poor and plastic-ish in appearance, whilst costumes are merely dull grey and unoriginal. The plot is a complete jumbled jigsaw of a mess involving the age old notion of time travel, unfortunately you really have to have a tight plot to pull this off annnnd this doesn't. You don't care about any of the characters down to stale acting, Lacey Chabert looks as if she's been swimming the whole time yet is oddly quite sexy with her squeaky voice. She was 16 at the time I believe, should I be locked up?! Even Hurt can't inject quality into this pantomime, Oldman fares somewhat better but there really isn't anything he could of done. The original series was camp family space age fun so of course the film was never gonna be serious sci-fi but clearly they wanted it to be semi serious. This was the problem because the whole thing is basically a cartoon or as I like to think of it...Schumacher's 'Batman and Robin' in space...with Matt LeBlanc who was clearly added to capitalize on his brief moment in the limelight. Just another attempted fast food franchise rolled off the Hollywood factory line, badly conceived, poorly made and vanished into movie obscurity.
Phil Hubbs
Super Reviewer
½
Lost in Space is a fairly decent film. I first saw it when it was originally released, and I expected to hate it. However, I was surprised. The cast are good here, and they are good to watch on-screen. Though the film is not perfect, Lost in Space is a decent, entertaining film that will appeal to anyone looking for a good Sci Fi yarn. This film will most likely appeal to fans of the TV series, instead of straight forward Sci-Fi film fans. I didn't hate this film, but it was almost a dud for me. There's entertaining bits here and there, but by the time the credits roll, you realize that there's something missing to really make this film truly good. Director Stephen Hopkins crafts a decent film for sure, but this is an imperfect film that could have been much better. The film has script limitations and it's evident that the film has a strained feel right from the get go. The film manages to be entertaining, but it's not quite perfect. I liked the film for what it was, but it could be so much better than this. If you enjoy Sci Fi films then this is a must see, however it has plenty of imperfections, and like I said so many times before; this film could have been better. But for the most part, this is an entertaining film that anyone might like if you're in the right mood. Lost in Space is enjoyable and manages to be a fun, entertaining two hours despite all its flaws. Like I stated, this film will probably appeal more to fans of the show, I never seen the show, but I thought it was pretty decent for what it was. The film isn't as bad as people have claimed it would be; I have seen far worst than this.
This is, of course, the film adaptation of the TV series from the 60s. Most adaptations from TV in this decade have failed to meet our expectations, but I think this is one of the better ones. It's exciting, entertaining, and it has a bunch of good actors.
Lost in Space Quotes
There are no approved quotes yet for this movie.