The Loss of a Teardrop Diamond
(2009)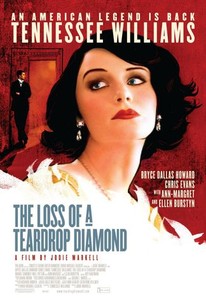 The Loss of a Teardrop Diamond Photos
Movie Info
Fisher Willow a headstrong young heiress chafes under the constraints of proper Southern society and rebels by asking the impoverished but handsome son of her father's caretaker, Jimmy Dobyne, to escort her to the major Memphis social events of the season. The relationship is purely a business arrangement at the outset, with Fisher paying for Jimmy's time and attention, but when she discovers that she really loves him, she finds it impossible to re-write the rules and earn the affection she tried to buy.
News & Interviews for The Loss of a Teardrop Diamond
Critic Reviews for The Loss of a Teardrop Diamond
Audience Reviews for The Loss of a Teardrop Diamond
Tennessee Williams. Good movie but a little boring for my taste. Great acting from Bryce and Chris. If there is a problem with the movie, it needs a little more time to invest in characters outside of Fisher. As a romance, the movie is questionable, not so much because of cheap film making, but because of a deliberate decision to keep things a bit distant. In fact, The Loss of a Teardrop Diamond when all is said and done, is more of a drama than a romance. This movie is not for everyone so I recommend you really watch it if your a Tennessee Williams novel enthusiast or a fan of Bryce or Chris. Tells the story of Fisher Willow, the disliked 1920s Memphis débutante daughter of a plantation owner with a distaste for narrow-minded people and a penchant for shocking and insulting those around her. After returning from studies overseas, Fisher falls in love with Jimmy, the down-and-out son of an alcoholic father and an insane mother who works at a store on her family's plantation. She tries to pass him off as an upper-class suitor to appease the spinster aunt who controls her family's fortune, but when she loses a diamond, it places their tenuous relationship in further jeopardy.
An heiress accuses a farmhand, whom she has employed to be her escort, of stealing a diamond earring. This film feels like Tennessee Williams's work from beginning to end, and one can almost draw one-to-one parallels from The Loss of the Teardrop Diamond to Cat on the Hot Tin Roof; both films are about maintaining integrity in a dishonest and disappointing world, but Teardrop is far less subtle, almost banging you on the head with speeches about how one's word is all that one can truly control. These are resonant themes in Williams's work, and the "style." by which I mean the long monologues filled with sharp images and the characters' slow drawl, is also typical Williams. But I can understand why this screenplay was never produced during his lifetime. There are elements that just don't fit, most obviously the Ellen Burstyn character, and when Fisher does what she does with the second medicine bottle, I wondered when she would experience something more than making the scenery look darker. I didn't recognize Bryce Dallas Howard, who gives a fine performance, but Chris Evans is what Chris Evans would be if he routinely talked in a Southern accent. Overall, this is a poor effort, but die-hard fans of Williams will find something to like.
Jim Hunter
Super Reviewer
This Tennesse Williams period story is strangely delightful and focuses on life in the south in the late 1920s. This is a change of pace and refreshing as a breath of cool evening river wind. The movie is not so much driven by plot as much as it is by a movie stealing, fiery performance from Bryce Dallas Howard. She does a sensational job of acting with her face, which brings me to another effective quality of the movie. It is beautiful, rich and luscious, with every shot dressed up nicely. I see she gained her weight for her character in this film before she already lost her weight for her next supporting role in Twilight: Eclipse.
Dean McKenna
Super Reviewer
The Loss of a Teardrop Diamond Quotes
There are no approved quotes yet for this movie.