Los Olvidados
(1952)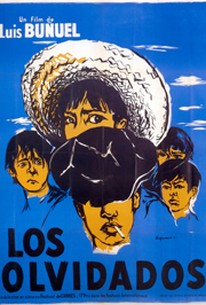 TOMATOMETER
AUDIENCE SCORE
Critic Consensus: Los Olvidados casts an unsparing eye on juvenile crime -- and the systemically flawed societies that allow it to flourish.
Movie Info
The winner of two Cannes Film Festival awards, Luis Buñuel's Los Olvidados (aka The Forgotten Ones and The Young and the Damned) was the director's first international box-office success. Yet Buñuel showed no signs of curbing the outrageous iconoclasm that made him famous in Europe and South America; one of the more lasting images of the film is the clash-of-cultures shot of a glistening new skyscraper rising above the squalid slums of Mexico City. The story concerns a gang of juvenile delinquents, whose sole redeeming quality is their apparent devotion to one another. Part of the film's perverse fascination is watching Buñuel's street punks cause misery to those less fortunate. The audience immediately identifies with Pedro (Alfonso Mejía), the youngest gang member, who evinces a spark of decency; yet Pedro, like the others, remains a victim of circumstances far beyond his control. Throughout, Buñuel maintains an objective tone; it is our responsibility, not his, to judge the gang members. Seasoned with haunting dream sequences, Los Olvidados was the opening volley in what would turn out to be Buñuel's most creative period. ~ Hal Erickson, Rovi
Critic Reviews for Los Olvidados
Audience Reviews for Los Olvidados
½
The fact that this daring classic enraged its audiences in Mexico when it came out is completely understandable, considering all it implies without actually showing and the unromanticized way that it exposes the misery faced by poor children and teenagers amid all the indifference.
Carlos Magalhães
Super Reviewer
½
Los Olvidados. The literal translation of it is "The Forgotten". And yet the English title is The Young and the Damned. More attractive, yes, but definitely not very accurate. Being young and damned supposes challenges indeed, but never the void implied in being Forgotten. A gang of homeless children turn to robbery, vandalism and muder to survive in the slums of Mexico City. They act with a courage no one should have, with principles no one should have. They are menaces to each other and to themselves, and they terrorize their entire surroundings. Los Olvidados is incredibly realistic, it plays almost as a documentary, and it is supported by unbelievable performances by the children. The violence in the film is raw and mortifying, and, initially, it's shocking to see these kids beating crippled beggars on the streets, murdering each other, stealing, and especially speaking about society with real disdain and hate. It is not an optimistic movie as is stated in the beginning; no one here is going to find redemption because of some profound spiritual awakening -that precious time devoted to introspection is unknown to children who already have to use most of their time getting the bare necessities. The most terrifying thing about Los Olvidados is that the situation here protrayed is far from being corrected anywhere in South America. Throughout Los Olvidados, Bunuel shows us that their behavior isn't the children's fault. It isn't their parents fault... and so on, until there is no simple answer to the question, who to blame? As always, Bunuel questions the ideas we tend to repeat mecanically over and over again: poor children, their parents never took care of them, never taught them anything. Maybe it's true, but never, ever, that simple. With Bunuel, answers are never shallow. We also encounter the two sides of legal interference in the case of social issues like homeless children; for once, the State isn't evil, and we can see the decent intentions behind their social reinsertion program, even if it fails. Even though it's very long and its topic is unconfortable, Los Olvidados never bores. It keeps you on the edge of your seat, it manages not to exaggerate non-fiction to the borders of fantasy or incoherence, and creates an almost real life experience. Since it's Bunuel we're talking about it comes as no surprise that it would be filled with oniric symbollism and one dream sequence. Notice the hens- Bunuel said that to him hens represented the unknown, the dreamland. Los Olvidados works alone and in the context of Bunuel's catalogue because it shows that he actually knew how to make an excellent "conventional" movie, which so many people like to hold against him.
Brutal, people hated this one in Mexico when it was released. Truth hurts indeed.
Tsubaki Sanjuro
Super Reviewer
Los Olvidados Quotes
There are no approved quotes yet for this movie.