The Lords of Discipline
(1983)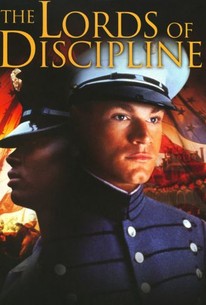 Movie Info
In this melodramatic polemic against the hazing of young recruits -- especially one racially different recruit -- in a fictitious Carolina Military Institute, director Franc Roddam reveals increasingly vicious levels of abuse as the story progresses. Adapted from a long novel by Pat Conroy, the tale is shortened to focus on the travails of Will (David Keith), a senior student confidentially charged with making sure that the initiation of the young Afro-American Pearce (Mark Breland) does not get too violent. Yet that is exactly what happens, and Will becomes alarmed when it seems like someone is out to kill Pearce. He knows there is a secret group called "The Ten" who exercise an unseen control over weeding out cadets they do not want, for one reason or another. As Will's dangerous investigation into the identity of these ten people continues, with the reluctant help of some of his friends, corruption and a cover-up at the top seem like an increasingly certain scenario.
Critic Reviews for The Lords of Discipline
Audience Reviews for The Lords of Discipline
I love these old 80's flicks with these awesome cast rosters :) of course at the time most were virtually unknown, Biehn, Paxton, Judge Reinhold, William Hope, Rossovich, Prosky and David Keith all perform well to make this novel adaptation very enjoyable to watch. Filmed in the UK at Wellington College set as a Military Institute, the story is a strong, harsh and almost bleak look at a school for cadets rising up against the first black young man to join their ranks. Probably quite true to life back in the 60's US and alittle uncomfortable at times watching with allot of strong verbal, its not particularly violent or nasty to watch its emotionally solid, shows how a moral code can be abused or even corrupted and makes you think..which is good. The location is perfect for the film and really feels like a US camp, along side the young cast and stoic older actors to guide them the film is simple yet high quality despite not being anywhere near as good or hard as the original book, worth alook for sure.
Phil Hubbs
Super Reviewer
Set in the early 60's, four white kids stand up against racism at a southern military academy once the first black is admitted. Not bad.
Kevin M. Williams
Super Reviewer
The Lords of Discipline Quotes
There are no approved quotes yet for this movie.