Lords of Chaos
(2019)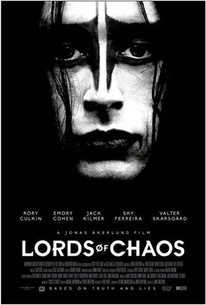 TOMATOMETER
AUDIENCE SCORE
Critic Consensus: Lords of Chaos presents a grimly compelling dramatization of a real-life music scene whose aggressively nihilistic aesthetic spilled over into fatal acts of violence.
Movie Info
A teenager's quest to launch Norwegian Black Metal in Oslo in the 1980s results in a very violent outcome. Lords of Chaos tells the true story of True Norwegian Black Metal and its most notorious practitioners - a group of young men with a flair for publicity, church-burning and murder: MAYHEM.
News & Interviews for Lords of Chaos
Critic Reviews for Lords of Chaos
Audience Reviews for Lords of Chaos
Can you divorce the art from the artist? We all have different thresholds of respect for our heroes and idols, and I've learned that it's usually best not to meet them or know too much about them as they are, after all, human and flawed like the rest of us. I don't think I've had to mitigate the gap between great art and the flawed nature of its creators as extremely as I have with Mayhem. By most accounts, including their own, several (if not all) of their members were atrocious human beings, but I'll be damned if I don't think De Mysteriis Dom Sathanas isn't a masterpiece and perhaps one of the greatest albums ever made. I've also seen the surviving members in concert twice, so I'm admittedly a bit of a fan boy. When discussing Jonas Akerlund's adaptation of the exposà (C) on the burgeoning days of Norwegian black metal, we have to take into account the mythology and the marketing that surrounds the crimes that took place back then to explain why this movie isn't great (but it's not that bad either). Told in a hackneyed narration style from the perspective of Oystein "Euronymous" Aarseth (Kieran Culkin) - one cobbled together purely from speculation - we are shown the rise of Deathlike Silence Records, Mayhem, and the Black Circle amidst the infamous church burnings, suicide of original frontman Per "Dead" Ohlin, and the murder of Magne Andreassen. With Aarseth as the primary source of exposition, he is granted a sort of moral clemency for his role in the crimes that surrounded the black metal scene, and this sympathetic light distorts him from someone who I believe was much more culpable than is let on. The great ironic conceit of the film is that all of these "dark" "evil" "satanic" counter-culturalists were all highly privileged and well-raised children from wealthy families which I think sugarcoats or overly humanizes the fact that these boys were sociopaths steeped in a toxic culture of derelict one-upmanship. The book that Lords of Chaos is based on would suggest that Euronymous was much more concerned with becoming a successful musician than any sort of an ideologue, but it's hard to clear him of ill intentions after his vandalism of Ohlin's death scene. He was certainly no angel. Leave it to the guy who is mostly known for his music videos to gloss over the grey areas and simplify a story like this with seemingly no goal in sight but for blood, guts, T'n'A, eViL, and METAL!!! But in the end, isn't a travesty of a biopic what those little nihilistic twerps deserve after the real world consequences they inflicted on others? The film is puerile in its edginess and try-hard angst, and the dialogue is so hilariously bad in parts that it could easily be mistaken for parody. The movie is intentionally and unintentionally making a mockery out of the situation, so even when it misses the mark it accomplishes its goal. In that aspect it is a success. It's like if The Boondock Saints was about the Menendez brothers. Ultimately, one can appreciate it as an exercise in the mythology that surrounds one of the most exciting and novel things to occur in the history of modern music. It's a story that could only come about because of the industry and marketing of shock culture within the context of first world decadence. It's also a testament to the idiocy of youth and the creative fire that it ignites. I doubt that's what Akerlund was going for, but it makes a hell of a lot more sense than whatever Polar was trying to do. Regardless, for a more comprehensive document on this scene and events please defer to Aites and Ewell's documentary Until the Light Takes Us.
K Nife Churchkey
Super Reviewer
Lords of Chaos Quotes
There are no approved quotes yet for this movie.