Lock, Stock and Two Smoking Barrels
(1999)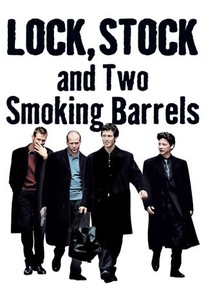 Lock, Stock and Two Smoking Barrels Photos
Movie Info
British writer Guy Ritchie made his feature directorial debut with this crime-caper comedy-drama set in London's East End and heavy on the Cockney dialogue (with one scene in subtitled Cockney rhyming slang). A big-bucks scheme goes awry: Cardsharp Eddy (Nick Moran) and pals Bacon (Jason Statham), Tom (Jason Flemyng), and Soap (Dexter Fletcher) scuffle to pile up enough money to put Eddy at the card table opposite gangland porn lord Hatchet Harry (P.H. Moriarty). Unfortunately, the whole plan backfires, leaving Eddy owing Harry a huge sum, payable within the week. In truth, Harry hopes to acquire the bar run by his rival, J.D. (Sting), who is Eddy's father. To raise the cash, Eddy sets out to steal from a marijuana business run by Winston (Steven Mackintosh), but the inevitable gunplay doesn't make for an easy heist. World premiere at the 1998 Edinburgh Film Festival (Focus on British Cinema). ~ Bhob Stewart, Rovi
News & Interviews for Lock, Stock and Two Smoking Barrels
Critic Reviews for Lock, Stock and Two Smoking Barrels
Audience Reviews for Lock, Stock and Two Smoking Barrels
½
Ritchie uses almost every known British character actor/soap star for his gang romp revolving around the simple premise of some guys owing a gang boss a large amount of money. The cast is impressive you gotta admit, of course you gotta be British to probably get the most from it, but the collection of oddballs and gangsters are all so well performed by the cast, it just shoves the seedy, gritty, dirty Del boy London grim in your face perfectly. There is certainly a Tarantino style going on throughout as the story tends to twist n turn amongst all the dreary looking locations, the whole film seems to have a brownish tint to it. Almost an enforced grimy hue to really bring the rough dilapidated streets of London to life. To be honest you don't even need to follow the story you just watch it for the continuous use of cockney slang and hints of vicious violence between various ruffians (a case of less is more with the violence), at the same time all this is accompanied by a glorious soundtrack. A slick cool visage of thugs and wheeler dealers of varying levels of intelligence all mixed with a dark gallows humour that makes you unsure whether to giggle or shy away. The four main characters are a good balance of your classic 'EastEnders' types with a dollop of 'Only Fools n Horses' comedy on top in a world where the Kray brothers could still be walking the streets and where Vinnie Jones as Big Chris brings another level of atmosphere with his final act. Bosh! job done Guv'
Phil Hubbs
Super Reviewer
½
I didn't get this one the first time through, but in retrospect, I wonder if I didn't just fall asleep or something... It's actually a rather simple story: three teams of basically inept criminals with divergent motivations find themselves going after the same loot. It takes a risk by coming to a conventional ending about two-thirds of the way through the film then carrying on with the rest of the story regardless. Highly stylized and quite funny, it's not Ritchie's best work - that's Snatch - but it justly put him on the map, and the conclusion is pure poetic justice. A founding text in the flourishing British gangster genre, and worth seeing again... particularly for me!
Daniel Perry
Super Reviewer
Guy Ritchie's debut is a blazing gangster film with sharp dialogue and a mix of drama and comedy that reinvents the genre. With a terrific cast, Guy Ritchie directs an effective crime film that is a must see for gangster film fans. Early signs of Ritchie's brilliant direction can be seen here, and would subsequently perfected in his follow-up, Snatch. The film has a serious tone to it, but has enough comic moments to really make it a unique gangster film. Before hand, films in this genre were too serious, dark, and violent, which there is nothing wrong with that. However Ritchie introduced something a bit different and it worked very well. Some people will surely hate this film, but to those crime film fans who want a new angle on a classic story, this is worth seeing. The film has a plateau of colorful characters which make for an interesting viewing experience. Guy Ritchie's films have a terrific sense of style and this debut feature showcases that brilliantly. I personally enjoy Ritchie's work, and Lock, Stock and Two Smoking Barrels is a fine crime film that has some strong performances, a clever script and effective plot that will keep you entertained from start to finish. Even if it's not a flawless film, this is sure to become one of the most memorable gangster films of the last twenty years. With a great cast at hand, Guy Ritchie has delivered a smart, effective and well constructed crime film that goes where no genre film has gone before. This is a must see for crime film fans, and some viewers may not get used to Guy Ritchie's brand of eccentric filmmaking, but it pays off in the end.
Lock, Stock and Two Smoking Barrels Quotes
There are no approved quotes yet for this movie.