The Living Daylights
(1987)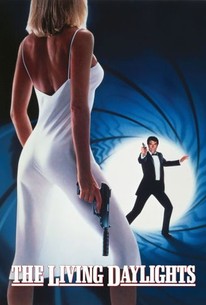 TOMATOMETER
AUDIENCE SCORE
Critic Consensus: Newcomer Timothy Dalton plays James Bond with more seriousness than preceding installments, and the result is exciting and colorful but occasionally humorless.
The Living Daylights Photos
Movie Info
Assigned to facilitate the defection of a Russian agent, secret agent James Bond soon discovers that the situation is much more complicated than it appears. This entry in the popular action series finds 007 battling drug smugglers, international mercenaries, arms dealers, and a beautiful markswoman.
News & Interviews for The Living Daylights
Critic Reviews for The Living Daylights
Audience Reviews for The Living Daylights
½
Despite Timothy Dalton's welcome change as a more serious Bond after the cartoonish Roger Moore era, The Living Daylight's is one of the least satisfying productions of the entire series. It's just run of the mill across the board. It lacks energy, wit, and charm. There's only a couple of decent action sequences and for Bond, that is not going to cut it. Part of the problem is with the script, but also that Dalton isn't given anything to liven up all the dullness, therefore making his performance also part of the problem because there's no personality. There's also no good villains, a lack of Bond girls, and the plot is outright boring. The filmmakers tried to go as straight as possible after the relatively bombastic Moore installments, but it was clear that they were not ready for such an undertaking and it would mean that Dalton got the short end of the stick because audiences hated this version of Bond. It's really too bad because I think Dalton could have done something with the character in the vein of what Daniel Craig is doing now. We'll see how things change in his second and final performance in Licence to Kill, before Bond had to take a 6 year hiatus due to lack of interest from paying audiences.
Josh Lewis
Super Reviewer
After 7 films, it was clear that Moore was done, and the series needed to be refreshed. Cut then, to this: Timothy Dalton making his 007 debut, and the series making a return to a more grounded and less ridiculous approach to the spy thriller. Dalton gets dumped on, but I rather like his brief era, but maybe that's because I'm a fan of a more realistic and dark approach. That's also why I dig Daniel Craig. I will concede that each Bond has their good and bad points though. And Dalton is fine here. He was criticized for being humorless. Well, he's not entirely, but he is really dry with his quips. Okay, the plot. Well, it's immense: Bond is signed on to aid in the defection of a Soviet, only to find himself stuck in the middle of a complex plot that also involves tons of Cold War intrigue, lies, deception, arms smuggling, the opium trade, and the Soviet war in Afghanistan (later revisited in Rambo III). Yeah, it's a lot, but it's all handled surprisingly well, and during its 131 minute run-time the film moves along at a pretty brisk pace. For the most part that is. It does start to drag some and get real drawn out during the final act, but it does conclude quite satisfactorily. Like I said, Dalton is good, but you can tell it's his first film, as he is a bit stiff at times. Again though, I like him. Maryam d'Abo isn't the worst Bond girl, but she struck me as really wooden and rather blah. She's nice looking though. The film fares better with the supporting cast, with top honors going to Joe Don Baker, Jeroen Krabbe, and John Phys-Davies. The stunts and action are staged and executed fairly well, the direction is fairly assured, and overall, this is a really enjoyable, sadly underrated romp. Give it a go.
Chris Weber
Super Reviewer
"The Living Daylights" is Timothy Dalton's first(of two) turn as Bond, James Bond. He does a decent job, but comes off as too serious for the role. The plot is pretty much in line with the rest of the Bond films, and features some of the better action sequences up to this point in the franchise. The finale on the plane is pretty awesome. I would say this movie is better than most of the Moore movies, but Moore was a better Bond(well, some of the time).
Everett Johnson
Super Reviewer
The Living Daylights Quotes
There are no approved quotes yet for this movie.