Little Otik
(2001)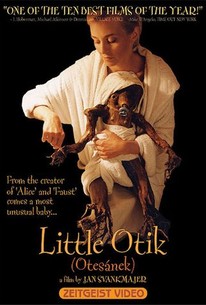 Movie Info
Acclaimed animator Jan Svankmajer combines cartoon and live-action imagery to bring to life a bizarre story based on an old Czech folk tale. Karel (Jan Hartl) and Bozena (Veronika Zilkova) are a married couple who desperately want a child, but have been unable to conceive; Alzbetka (Kristina Adamcova), an only child who lives next door, has long wanted a friend to play with and feels for the couple's sad dilemma. One day, Karel is digging up an old tree stump when it occurs to him that the roots look a bit like a baby; Karel brings the stump home and carves it into the image of a child, and Bozena expresses so much love for the wooden infant that it comes to life. Karel and Bozena name their new child Otik, but their joy is short-lived when they discover the infant has a bottomless appetite -- so much so that Otik begins eating stray animals and even people in an effort to satisfy its hunger. Karel and Bozena hide Otik in their basement to keep it from harming others, but Alzbetka feels sorry for the strange child and begins bringing Otik scraps of food. It soon becomes obvious that this isn't enough to keep Otik satisfied, so Alzbetka starts luring people from the neighborhood into the basement -- letting Otik do the rest. Otesanek was screened in competition at the 2000 Venice Film Festival.
Critic Reviews for Little Otik
Audience Reviews for Little Otik
½
An infertile couple pretend a tree stump is a baby, but trouble arises when it comes to life and needs to be fed. The laughs are as twisted as the gnarled roots little Otik uses to grab his dinner in this black comedy adaptation of a European folktale with hints of horror and flecks of surrealism.
Little Shop of Horrors, with a Czech twist. An off-beat (to say the least) rendering of a fanciful fairy tale. Consider this a rave review for a ravenous root. :)
Randy Tippy
Super Reviewer
½
Like merging Lynch's The Grandmother & Eraserhead and making it more straightforward but also more twisted at the same time
Little Otik Quotes
There are no approved quotes yet for this movie.