Little Nemo: Adventures in Slumberland
(1992)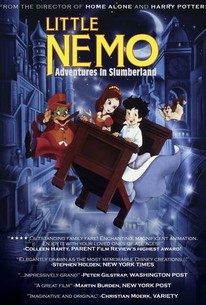 AUDIENCE SCORE
Critic Consensus: No consensus yet.
Little Nemo: Adventures in Slumberland Photos
Movie Info
This animated feature is based the Winsor McCay comic strip of the same name. It chronicles the exploits of Nemo, a young boy whose vivid imagination allows him to set off on endless (and endlessly surreal) adventures in his dreams.
Critic Reviews for Little Nemo: Adventures in Slumberland
All Critics (3) | Fresh (3) | Rotten (0)
It's a wild ride, pulling you around willy nilly in a way that somehow feels very comfortable and natural despite making no real sense.
Lots of fantasy fun, but watch out for nightmarish scares.
Audience Reviews for Little Nemo: Adventures in Slumberland
The film had so many production problems, & it showed. As far things go with this film, the only thing that actually stands out is the lovely animation & creative visuals, & that's pretty much it.The film as a whole is just bland & makes little to no sense. I remember watching this film when I was around 3 or 4 years old, & like every other animated film I've watch at a young age, it was just a movie. Re-watching the film right now, it is mediocre at best, & plain out sucks at worst. This films had so many problems & took years to find a way, & had plenty of directors to take hold of this project, including George Lucas, Brad Bird, & even Hayao Miyazaki, but the film ended up 'trying' to compete with Kiki's Delivery Service, & failed, drastically. Who has my vote? Well Miyazaki of course (Bird & Lucas can suck it)! I swear that this film could have been great directed by Miyazaki, or in fact even alone it could have been great, but just like with ¨The Thief & the Cobbler¨, the movie failed of all of it's production problems. The voice acting int his film is just ok, nothing too great, nor is it terrible. But the major problem is the dialogue. At times it is just 'eh', & the other times it's just horrible because it mainly consists of Nemo making those ¨Wow¨ ¨Wowee¨ stuff. Also, the princess' voice actress is not bad, the problem is that she has some sort of on & off British accent. The story make no sense, & takes you into some sort of Inception like crap about how this was dream to another dream & such. It can't stand still & just throws it in there like we're supposed to be ok with it. The characters aren't interesting, at all, & the main protagonist, Nemo, has almost annoying, & has no personality. If you think Nemo was bad, I haven't even got to the character Flip. As far as the King goes, he's a big kid at heart, & a stupid, irresponsible one. The king suddenly just decides to make Nemo the heir to his throne, just like that. It's like he just suddenly looked at the first kid name in a phone book & said ¨Oh, this kid will be my heir!!¨. And then he tells him (Nemo) to promise to never open a door with a symbol a key he gives him has. You know, if you were intelligent, giving something that can cause great damage to a child, always fails 99.99% of the time. Just like it's happened in plenty of other films. As far as the plot goes, it focuses a lot on dragging scenes on for who knows how long, & it gets so bland & boring that you just wish it would get to the next point. You get scenes where the characters are enjoying themselves in the kingdom, but those scenes take so long, & it gets boring. And to add to that, his movie has tons of pointless scenes, just plain out pointless. And that's pretty much it. The film as a whole is just bland, really, really bland. The visuals & animation are excellent, coming form the company that gave you Tiny Toons, Batman: The Animated Series (still the only good Batman), & The Animaniacs. This is just one of those films that you remember watching, but never remembered again until you see an image of it, but never the name.
Frisby 2007
Super Reviewer
Sometimes, it's hard to forget other non-Disney features, do we? But, that doesn't mean we have to live on without them. On top of that, some of them may not be memorable, but they will live on in our memories. That's why we get Little Nemo: Adventures in Slumberland, based on the comic strips from the 1900s, made by TMS (who did the animated productions like Tiny Toon Adventures and many more), screenplay was made by Chris Columbus (writer of The Goonies and director of Adventures in Babysitting, Home Alone 1-2, Mrs. Doubtfire, and the first two Harry Potter movies in the early 2000s) and Richard Outten, and the soundtrack was made by the Sherman Brothers (who did the songs for such great family classics like Mary Poppins, Winnie The Pooh, Chitty Chitty Bang Bang, The Slipper and the Rose, and the theme song It's A Small World (After All) for the Disneyland theme park. Production in Japan began in 1982, but was then released in 1989 and 1992 in America before it was received by the critics as it won an Annie Award in 1993. The reason why I'm reviewing this is because I've watched the Nostalgia Critic review of that movie and I was like, "What the heck" and before I'm going to make my opinion, I'm gonna write the plot from the movie that we've already know what it was about. It revolves around Nemo, a young boy from New York, dreams as he goes off to a fantasy world called Slumberland. There, he meets King Morpheus, who gives him caution never to open the door. Nemo then discovers that the door contains the Nightmare King (who rules all of Nightmare land) before breaking his promise by opening it with a key. As the nightmare begins to flood all of Slumberland, it's up to Nemo and his new friends to destroy the Nightmare King once and for all. That's it for the plot, now for my opinion. Even though the Nostalgia Critic himself praised the animation and visuals, he criticizes the main character's personality and the stale and dark moments. In my opinion, I'm gonna disagree with him by saying that this movie is an animated musical masterpiece since the era of Disney. The animation is a lot of fun with colorful backgrounds and I like the dark visuals even though it's a little bit intense and scary for kids ages 8-12. Though, the only problem that I had with this movie was the main character Nemo and his personality. He may be underdeveloped, but it's very hard to dislike him being voiced by Gabriel Damon from Don Bluth's animated masterpiece "The Land Before Time" and that's not worth saying much. The other characters were developed and were very likable. When it comes to the musical numbers, I'd say, very well done. The songs from the beginning to the end by Melissa Manchester were a lot of pleasure and the musical numbers during the movie were very good every single one of them is memorable. The storyline was a very interesting concept and was well paced. The acting was very entertaining even the dialogue was pretty ordinary, but great. Little Nemo: Adventures in Slumberland lacks in any depth, but IMO, it is a great animated movie that has a amazing reality of dreaming for a lot of good things. 8/10
Gavin Cresswell
Super Reviewer
I used to love the computer game of this. You could feed Gorilla's and ride on their backs, as well as teaming up with other animals. It had a great soundtrack and was very imaginative. This film is pretty good, but it's flaws are just too apparent to make it completely enjoyable. Nemo is stupidly annoying and does things without question. Flip is similar, doing mischievous things just for the sake of it. There are some nice designs but this is simple entertainment.
Luke Baldock
Super Reviewer
Little Nemo: Adventures in Slumberland Quotes
There are no approved quotes yet for this movie.