Little Monsters
(1989)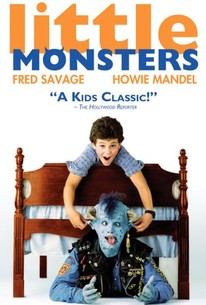 Movie Info
Lonely 11 year old Brian (Fred Savage) makes an unusual new friend when he captures Maurice (Howie Mandel), the mischievous monster who lives under his bed, and stumbles into an exciting new world where mythical creatures really exist. When Brian learns that he, too, will become a monster unless he turns his back Maurice, however, he struggles with the prospect of losing the only real friend he's ever known.
Critic Reviews for Little Monsters
Audience Reviews for Little Monsters
½
Some friends can be REAL MONSTERS. And some monsters can be REAL FRIENDS. Saw it again! Great kids movie! Loved it when I was a kid and saw it again and really enjoyed it one more time. I know kids these days will enjoy it if they saw it too so well recommended. A child meets the monster that lives under his bed. He even becomes one of his best friends. Soon the child discovers a whole new world of fun and games under his bed where pulling pranks on kids and other monsters is the main attraction.
Why is there this rule that like, for a movie to be a classic, it has to be good the whole time? this movie is witty, suspenseful, creepy, and hilarious for about 3 minutes. its just that first you have to watch a bunch of kids having pussy fights with each other and getting in trouble with their dads and getting detention from the principal and getting grounded by their dads and a kid going through a Rocky montage to get ready before he catches his monster and a fat redhead kid drinking warm piss that he thinks is applejuice because he lost his sense of smell in an accident and kids dressing like characters from the original Resident Evil and then dressing in big ugly lightbulb Transformer costumes that they made in like, 4 seconds with some q-tips and butterfinger wrappers n' shit and once thats over you get to see... Frank Whaley.
Coxxie Mild Sauce
Super Reviewer
A great fantasy adventure kids movie! I really enjoyed it, I just wish I'd seen it as a kid. It's a lot of fun, the actors are good, and so is the story.
Little Monsters Quotes
There are no approved quotes yet for this movie.