Little Fockers
(2010)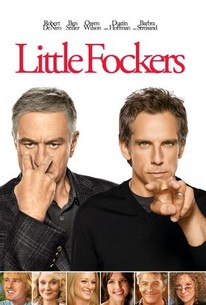 TOMATOMETER
AUDIENCE SCORE
Critic Consensus: As star-studded as it is heartbreakingly lazy, Little Fockers takes the top-grossing trilogy to embarrassing new lows.
Movie Info
A birthday party for the twins gives Greg an opportunity to redeem himself after he takes a job that raises the suspicions of his overbearing father-in-law, Jack (Robert De Niro), in this installment of the hit comedy series. Greg (Ben Stiller) and Pam (Teri Polo) have been together for ten years, and now they're the proud parents of two adorable twins. But money is tight, and in order to keep his family afloat, devoted nurse Greg takes a second job working for a drug company. But that development doesn't sit well with Jack, whose previous suspicions regarding his hapless son-in-law soon come back in full force after learning of this development. With the twins' birthday fast approaching, the proud parents invite the entire clan over to celebrate in style, including Kevin (Owen Wilson), who still carries a torch for his pretty ex Pam. As the festivities get under way, Greg takes every opportunity available to prove to Jack that he's fully capable of providing for his family. Now Greg has one last chance to prove that he's trustworthy. Should he fail, the circle of trust will be broken for good. Dustin Hoffman, Barbra Streisand, Laura Dern, and Jessica Alba co-star. ~ Jason Buchanan, Rovi
News & Interviews for Little Fockers
Critic Reviews for Little Fockers
Audience Reviews for Little Fockers
Mediocre third film, Little Fockers really could have been a fun, entertaining movie, but it uses recycled ideas from the two previous movies, and though at times I did laugh, there weren't enough good on-screen jokes to make this a standout comedy worth seeing. The film suffers from a lacking script which just makes the film tedious, and unmemorable. The first two films were great, but with this film the material just doesn't deliver. The humor is predictable, and it's overdone. What they could have done here was keep some of the familiar ground they've established and write new intelligent jokes, instead of exclusively using the old ones. The film just lacks in terms of good story, and everyone involved seems to go through the motions as if they don't care how it ends. Well, Little Fockers ends up being a tiresome film, one that just doesn't deliver anything really funny. Sure, there are a few laughs here and there, but it's not consistent enough to really make this a watchable film. Stick with Meet the Parents instead, it was the best of the trilogy and is still very funny after all these years. Little Fockers is the same old gag and it has become predictable to the point where it's just another comedy sequel that simply doesn't know how to conclude a good trilogy. Little Fockers isn't awful, but it's not good either, it's a mediocre movie, one that that tries too hard at outdoing the first two, and it just doesn't have enough good elements to make this a funny, entertaining comedy. Not awful, but forgettable, Little Fockers should have been much better than this.
½
Had a couple of laughs but not worth ten dollars. It is hard to believe that Meet the Parents ended up like this. My advice: watch the first and if your curious then the second. The third is a horrible let down.
Nikhil Nandu
Super Reviewer
½
Painful third installment in a series that should have ended on the first one, when it was still funny. Honestly felt like a bad tv movie. Glad it was a free rental.
Nicki Marie
Super Reviewer
Little Fockers Quotes
There are no approved quotes yet for this movie.