Little Evil
(2017)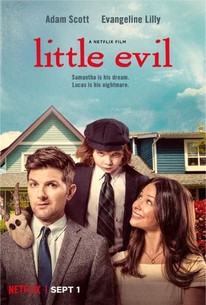 Movie Info
From writer/director Eli Craig (Tucker & Dale vs. Evil); Adam Scott (Big Little Lies, Parks & Rec) and Evangeline Lilly (Ant-Man, Lost) star in this offbeat comedy about love, family, and the Antichrist. Gary has just married the love of his life, Samantha, and is now the stepfather to her quirky 5 year old son, Lucas (Owen Atlas). But he soon finds himself in increasingly odd situations around the child, which drives him to believe his new stepson may actually be the spawn of Satan.
News & Interviews for Little Evil
Critic Reviews for Little Evil
Audience Reviews for Little Evil
Oddly enough, the greatest strength in this horror-comedy really isn't the horror or the comedy, it's the heart of the thing. It's ultimately a story about a step-parents acceptance into a new family, both him accepting of the child and the child accepting him. It just so happens that the child in this instance in the antichrist. That relationship as it develops is actually pretty heartwarming, not one you see a lot, and I'll be damned if they don't handle it in a wildly original way. I liked Adam Scott as the stepdad, and I liked his crew of stepdad support group. However, the rest of the movie just doesn't work as well as it should. As built up as the jokes are, none of them quite land. There's a lot of chuckles, but no big laughs. It also has some weird pacing issues, especially near the third act. I actually though the movie was prepping to end on a cliffhanger only to realize that it was actually just getting started for a surprise twist and there was actually about 20 minutes left. I still give it a marginally positive rating because it is still an overall surprisingly charming movie. It's surprisingly likable, and wildly original, and it's got a good heart. It just comes way short of it's ultimate potential
Michael Malan
Super Reviewer
½
'Little Evil' is a seldom gut-bustingly funny horror-comedy which winks at Richard Donner's demon-seed masterpiece 'The Omen' (with the Tubular-Bells-esque, apocalyptic score heralding the Antichrist's dominion over Earth) but it bungles the burlesque execution. Eli Craig (of 'Tucker & Dale Vs. Evil') is a Kapellmeister at an idyllic surface over the arterial-spray terror. At one point, Craig flagrantly regurgitates the smash-cut structure of Edgar Wright. Lucas (Owen Atlas) is a doppelganger for Damien as well but Craig doesn't spoof diacritical scenes (other than the birthday soiree carnage with a self-immolating clown). As the office nuisance Al, Bridget Everett is truly excruciating. In a florid Hawaiian shirt and with an androgynous attitude about the step-parent role, Everett is assaultively unfunny to real estate agent Gary Bloom (Adam Scott) and the viewer's ear canals with the surfer tautology of "man". Ultimately though, 'Little Evil' is uprooted by a one-joke conceit in which all of Lucas' goat-puppet ventriloquism and other diablerie are faintly ratiocinated by a deadpan Scott. However, it is undeniably uproarious when Scott postulates that hair gel is why Lucas is frozen during his wedding day tornado. Sadly, much of the raillery about Satanism is monomaniacal to the mean-spirited, misogynistic extent where Gary's ravishing wife, Samantha (Evangeline Lilly), is a blathering ignoramus (a conversation about Lucas' conception at a cult ceremony with "warm red pain").
Cory Taylor
Super Reviewer
Nicki Marie
Super Reviewer
Little Evil Quotes
There are no approved quotes yet for this movie.