Lions for Lambs
(2007)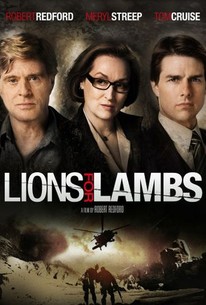 TOMATOMETER
AUDIENCE SCORE
Critic Consensus: Despite its powerhouse cast, Lions for Lambs feels like a disjointed series of lectures, rather than a sharp narrative, and ends up falling flat.
Movie Info
Two determined students at a West Coast University, Arian and Ernest, follow the inspiration of their idealistic professor, Dr. Malley, and attempt to do something important with their lives. But when the two make the bold decision to join the battle in Afghanistan, Malley is both moved and distraught. Now, as Arian and Ernest fight for survival in the field, they become the string that binds together two disparate stories on opposite sides of America. In California, an anguished Dr. Malley attempts to reach a privileged but disaffected student, who is the very opposite of Arian and Ernest. Meanwhile, in Washington, D.C. the charismatic Presidential hopeful, Senator Jasper Irving, is about to give a bombshell story to a probing TV journalist that may affect Arian and Ernest's fates. As arguments, memories and bullets fly, the three stories are woven ever more tightly together, revealing how each of these Americans has a profound impact on each other and the world.
News & Interviews for Lions for Lambs
Critic Reviews for Lions for Lambs
Audience Reviews for Lions for Lambs
The premise of the film is actually very interesting. It views the US war on terror from different parallel angles: a liberal reporter interviewing a republican senator (Meryl Streep and Tom Cruise), a university professor trying to get his student to become political again (Robert Redford and Andrew Spiderman Garfield) while two US soldiers, his former students, are under attack in the Afghan mountains. With names like this, you expect the acting to be top notch and the dialogs to be smart and to the point and all that's the case, especially in the excellent Washington part. The film has a lot of smart things to say about the state of America in its war on terror and demands to open up the discussion again. That's a noble thought. Sadly, the Uni office section doesn't always get to the point as sharply and the Afghan story line ends in the expected preachy way. In the end you're wondering what was actually accomplished in those 90 minutes. A lot is hinted at, nothing's resolved. But then again, at least it made you think about it all, that's gotta count for something.
½
I thoroughly enjoyed this movie. Separate stories connected by a common theme telling a story from different perspectives made the movie relevant to political discussions about American policies and ideas of war. The movie also does the best job showing the price of war with the great lives sacrificed often for unjust reasons.
Thomas Johnston
Super Reviewer
It's frustrating me to see the critics rating this movie as if it was the worst of the year !
When I saw the theatrical trailer, I was totally waiting for the movie it actually shows: a movie where people talk... Talk about one of the most important subject of our time. I was not waiting for a thriller with conspiracies in every corner like the critics seemed to !
Okay, maybe the story was a little slow (but don't get me wrong, every lines were astonishing and the movie contains some breathtaking war scenes), but I thought each word was chosen perfectly and said by actors at their best. Ahh the actors ! Meryl Streep and Tom Cruise were completely admirable ! And well Robert Redford, without compting in his excellent direction job, acted greatly.
By forgetting what the critics said negatively about the abrupt ending, on my side, I thought it was very clever.

Finally, like it or not, it's still a movie every one should see.
Emile Tremblay
Super Reviewer
Lions for Lambs Quotes
There are no approved quotes yet for this movie.