Like Someone in Love
(2013)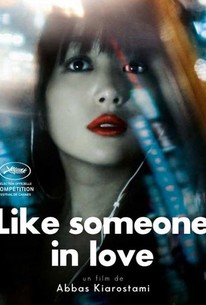 TOMATOMETER
AUDIENCE SCORE
Critic Consensus: In his second film outside his native Iran, director Abbas Kiarostami maintains the mysterious, reflective mood of previous triumphs.
Like Someone in Love Photos
Movie Info
When Akiko (Rin Takanashi), a lovely Tokyo student who moonlights as a call girl, is dispatched to a new client in the suburbs, she is surprised to find the shy and elderly Takashi (81-year-old stage actor Tadashi Okuno), a committed academic constantly distracted by work-related phone calls. The lonely widower seems far more interested in playing house than having sex, however, and the young woman soon falls asleep. The next day, when the two encounter Akiko's volatile boyfriend Noriaki (Ryo Kase), Takashi plays into Noriaki's assumption that he is actually Akiko's grandfather. As the three settle into their new roles, Takashi finds himself becoming the protector that Akiko so desperately needs. (c) Sundance Selects
News & Interviews for Like Someone in Love
Critic Reviews for Like Someone in Love
Audience Reviews for Like Someone in Love
½
Liked this mostly. Very interestingly filmed and looks great. I particularly like the part where she drives around Tokyo in the taxi. The opening scenes in the club are also interesting and leave you wondering exactly what's going on. Once she meets the elderly gentleman, it becomes a little less intriguing, but I still liked it. My complaints echo others - a little too abrupt to end and would have liked a little more tied up or explained. For example, did she sort her life out? What happened to the old man at the window? However, I get that this is more art than blockbuster, and like real life, maybe didn't have a clear ending or resolution.
Nicki Marie
Super Reviewer
Despite her engagement to young garage owner Noriaki (Kase), Akiko (Takanashi) moonlights as a high class prostitute to fund her college studies. One evening, her plans to meet her visiting grandmother are disrupted when her pimp orders Akiko to spend the night with retired sociology professor Takashi (Okuno). When she arrives, she finds a nervous elderly man who seems more interested in being a father figure to the young woman than indulging in any sexual activity. The next morning Takashi drops Akiko off at her college and encounters her irate fiance. Pretending to be Akiko's grandfather, Takashi finds the young man pouring out his emotions to him, but quickly discovers he possesses a violent streak. Not since the thirties, when central Europe's greatest film-makers fled fascist persecution to work in Hollywood, has cinema seen the level of cultural cross-pollination of the last few years. English actress Kristin Scott-Thomas has become French cinema's leading female star, appearing in more Gallic productions now than Anglo-Saxon ones. Earlier this year we saw the Australian director Cate Shortland working in Germany for the WWII tale 'Lore', despite not speaking a word of German. 'Like Someone in Love' is possibly the most curious example, a Japanese drama written and directed by an Iranian film-maker. While it doesn't quite feel like a native Japanese film, (there's far too much dialogue), Kiarostami's film seems like it could be based on a short story by someone like Haruki Murakami. This is both the strength and the weakness of 'Like Someone in Love'. The three characters are all interesting but Kiarostami's exploration of them would be far better served as a piece of literature rather than a motion picture. It's an excessively talky picture, with much of the dialogue serving as thinly disguised exposition. That said, there's enough to keep you engaged, thanks mainly to the performances of Takanashi and especially Okuno, who has the most interesting and pleasant face you'll see on any elderly gent. I'm forever arguing the case of ambiguity but even I found the ending of this film irritating. There's ambiguity and there's abruptness. Kiarostami opts for the latter in this case.
The Movie Waffler
Super Reviewer
Another mediocre film from the over-rated Iranian filmmaker Abbas Kiarostami.
William Dunmyer
Super Reviewer
Like Someone in Love Quotes
There are no approved quotes yet for this movie.