Like Mike
(2002)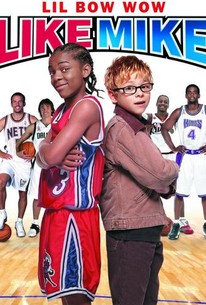 TOMATOMETER
AUDIENCE SCORE
Critic Consensus: A pleasant and innocuous diversion for kids, but adults may have trouble sitting through the movie's predictable plotlines and schmaltz.
Movie Info
Pint-size rap music star Lil Bow Wow shows that he can play ball as well as he raps in this youth-oriented comedy about a young boy whose dream comes true in an unexpected way. Calvin Cambridge (Lil Bow Wow) is a 14-year-old boy, who, since the death of his parents, has been living in an orphanage run by the unpleasantly eccentric Stan Bittleman (Crispin Glover). While the tough but caring Sister Theresa (Anne Meara) tries to encourage the kids, Calvin knows that he and most of the other kids his age are poor prospects for adoption. Calvin loves basketball and idolizes Michael Jordan, but he's too short to be much of a challenge to the older kids when shooting hoop at the playground. One day, Calvin discovers a pair of old basketball sneakers with the initials "MJ" written on the inside. Calvin is convinced they once belonged to Michael Jordan, but he can hardly believe what happens when he puts them on -- suddenly he's able to make superhuman jump shots and dunks just like a miniature version of Air Jordan himself. Calvin's newly developed talent on the court comes to the attention of Frank Bernard (Eugene Levy), the manager of the Los Angeles Knights, an NBA team having a humiliating season. Bernard brings Calvin to the team as a novelty item, but with the help of Coach Wagner (Robert Forster) and the new kid's can-do attitude, the Knights start to climb out of the cellar and look like possible season champs. However, Tracey Reynolds (Morris Chestnut), who used to be the team's star player, isn't happy to have his thunder stolen by a 14-year-old boy -- especially when he's made Calvin's roommate and de-facto guardian on the road. Like Mike also features cameo appearances by a number of pro basketball stars, including Allen Iverson, Chris Webber, and Jason Kidd. ~ Mark Deming, Rovi
Critic Reviews for Like Mike
Audience Reviews for Like Mike
½
Full review sometime between now and 2050.
Matt Goodman
Super Reviewer
½
Fun if a little unfocussed. Full review later.
Thomas Bowler
Super Reviewer
½
You know, when a company decides to make a movie about a kid playing professional basketball, they're basically saying "We're desperate!" This movie is ridiculous, it's unoriginal, it's badly acted. Basically, it's one of the worst sports movie of all time, and this is coming from a person who loved "The Fan" and "Mr. 3000". The worst part about the movie might be the script. It sounds like it was written by 2002, rap obsessed 5th graders. It was laughable AT BEST. Also, the acting wasn't very good. Even Jonathan Lipnicki and Eugene Levy from "American Pie" weren't very good. But I have to say that the lowlight must go to Lil Bow wow. It's clear the kid strongly believes he's "gangster". NOTE: I have yet to see "Fast and Furious: Tokyo Drift", so he might have gotten better. The whole story is extremely predictable. Kid goes to orphanage, kid learns how to play basketball, kid get's adopted by basketball player: THE END! Never before have I seen such appaling lack of creativity. I will admit there is one thing this movie is really good at: Stealing pbits and pieces from great sports movies to make their own. Basically, this is "Angels in the Outfield" meets "Rookie of the Year" meets "The Sandlot". Sandlot and Angels are good on their own, but NOT good mixed together. Face it directors. You guys lack the creativity to get even a B in ART CLASS!
Marc Lewis
Super Reviewer
Like Mike Quotes
There are no approved quotes yet for this movie.