Like a Dragon (Ryû ga gotoku: Gekijô-ban)
(2007)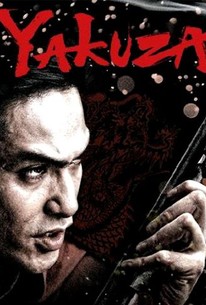 AUDIENCE SCORE
Critic Consensus: No consensus yet.
Like a Dragon (Ryû ga gotoku: Gekijô-ban) Photos
Movie Info
Cult Japanese director Takashi Miike draws inspiration from the popular !Playstation 2 title *Yakuza for this unhinged tale of underworld violence in Tokyo starring Goro Kishitani and Kazuki Kitamura. It's summertime in Tokyo, and as the temperature rises, two undercover cops stake out a high-profile bank robbery while complaining about the air conditioning. When the masked gunmen make their way into the vault only to find that the Tojo gang's ten-million-yen deposit has mysteriously vanished, an already complicated situation gradually starts to spiral out of control. Meanwhile, in another part of town, psychotic yakuza Goro Majima (Kishitani) strikes out on his own to pay a visit to rival gang leader Kazuma Kiryu (Kitamura) and track down the missing mother of adorable youngster Haruka (Natsuo). It seems that Haruka's mother has some valuable information, and Majima is determined to find her at any cost. Now, as Majima makes his way through the neon-lit streets of Tokyo, Satoru (Shun Shioya) and his girlfriend, Yui (Saeko), embark on a bold robbery spree, and South Korean hitman Park (Yoo Gong) prepares to locate and terminate the thieves who absconded with the Toho gang's money. Later, after Majima and Kiryu engage in a series of fights all across the city, a confrontation at the top of Tokyo's Millennium Tower finds the true criminal mastermind finally stepping out of the shadows.
Critic Reviews for Like a Dragon (Ryû ga gotoku: Gekijô-ban)
All Critics (1) | Fresh (1) | Rotten (0)
The result is a main narrative that functions like an action thriller that is much closer to "Agitator" than "The Mole Song" for example, while in some cases, it touches the borders of film noir, particularly in the case of the gun smuggler
Audience Reviews for Like a Dragon (Ryû ga gotoku: Gekijô-ban)
When done correctly, Takashi Miike can give a truly enjoyable movie experience like 13 Assassins. Unfortunately this isn't one of those movies and is a mess of a movie. Like A Dragon is about a former Yakuza underling Kiryu Kazuma, who has recently been released from prison, who's trying to find Haruka mother. The story of Like A Dragon is very poorly done despite the great material from the video game they could have worked on. It has to many characters that serve no purpose for the story and most of it story-lines go nowhere. Occasionally we do get some stupid dialogue and there are some pointless scenes in the movie itself. That's not the only problem as it has a weak build up to a boring climax. Clearly these people missed many opportunities to tell a thrilling stories, to bad they went in this direction. Now since this movie material is from the great video game franchise Yakuza, I'm surprised the violence is weak. There's not one enjoyable action scene in this movie. The special effects work against the movie as it makes it look very cartoonish. What's worse than that is the actors are really bad. Not one of them give an convincing performance and even some of the more emotional scenes are delivered heartlessly by it cast. What it does right is the attention to detailed they put to make it look exactly like the game and they do a pretty good job. Like A Dragon will definitely will disappoint fans of the series and it won't gain any new ones because of this movie. It's a missed opportunity to make a great movie from a great series, and that's what's most disappointing about this movie for any fan.
Caesar Mendez
Super Reviewer
½
Leave it to Miike to go and make the only worthwile movie based on a videogame to this day. The script is all over the place, yet, it's faithfull to the source material in the most unique way possible, and it just happens to be a lot of fun to watch. Goro Kishitani pretty much steals the whole movie.
Tsubaki Sanjuro
Super Reviewer
½
The eccentric Takashi Mike looks to a Playstation 2 video game by the name of Ryu Ga Gotoku (AKA: Yakuza) for inspiration. Like a Dragon is the result of this.
The thing with Miike is that abstractness and over the top elements are always expected, but nothing is certain until the viewing of the movie. The plot for Like a Dragon is NOT straightforward even though it seems it could be. There are a variety of characters, some of them being outrageous, with their own little stories that all end up mashing together. Actually, not ALL end up mashing. They may cross at small points, but that isn't exactly intertwining. Nevertheless, the film is fairly easy to follow.
Action fans will get a kick out of this picture. The over the top manga like violence has some good choreography and will entertain visually. The rocking theme song enhances these scenes as well.
The urban setting is fitting for the story. This movie is all about Yakuza and there is nothing like bars, alleys, and bath houses for all the action to take place.
Kazuki Kitamura is an appealing actor and he is a nice pick for the lead of Kiryu. He definitely has the look of a gangster. Goro Kishitani is something else. He steals the show as the maniacal villain Majima. There are no ifs, ands, or buts about it. He is the best character in this picture.
Like a Dragon isn't for everybody, but fans of Miike's other films will get a kick out of this.
Like a Dragon (Ryû ga gotoku: Gekijô-ban) Quotes
There are no approved quotes yet for this movie.