Life Support
(2006)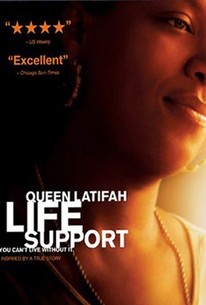 AUDIENCE SCORE
Critic Consensus: No consensus yet.
Movie Info
Produced by Jamie Foxx for HBO, this drama stars Queen Latifah as Ana a woman struggling to maintain a happy life despite being HIV-positive. Though her home-life seems happy with a loving husband and young daughter, Ana remains haunted by a past that produced Kelly (Rachel Nicks), a resentful estranged older daughter who now lives with Ana's mother. Juxtaposed with Ana's healthy approach to life with HIV is Amare (Evan Ross), a friend of Kelly's who uses narcotics to deal with the disease. Life Support screened at the 2007 Sundance Film Festival.
Critic Reviews for Life Support
Audience Reviews for Life Support
Very good. Powerful. Real.
Erin Collins
Super Reviewer
Queen Latifah plays a uncommon serious role in this movie. She portrays Ana Wallance who is strugging with the AID's Virus, while trying to help others in an age out reach group, she also struggles to help herself cope with the disease as well as help the family around her cope with the relation too it. It's a five star movie. You can tell it was on a tight budget, but the movie over comes that and makes use of what it has. In the heart of Brooklyn we see the harsh reality's of poverty and those who suffer with the AID's virus today. The movie is very educational and only inspires those who have it - to let others know, and those who dont, to be tested. People need to reach out to one another and save lives and this movie is a perfect example to lead the way. I was impressed by this films inspiration, guts, heart, and reality. Following a true life story it makes for as inspiration on life as it does on the big screen.
Bobby Hobbs
Super Reviewer
[font=Century Gothic]Inspired by a true story, "Life Support" is about Ana(Queen Latifah) who works for AIDS Outreach dishing out condoms and getting the word out. She and her husband, Slick(Wendell Pierce), are both recovering drug addicts who have been clean for years and are HIV positive. Each morning they take their respective medications as their nine-year old daughter, Kim(Rayelle Parker), gets ready for school. Ana's older daughter, Kelly(Rachel Nicks), lives with her grandmother(Anna Deavere Smith). A childhood friend of Kelly's, Amare(Evan Ross), is HIV positive and has gone missing...[/font] [font=Century Gothic][/font] [font=Century Gothic]While more a public service announcement than a narrative feature, "Life Support" is still worthwhile for covering ground on how AIDS has affected the African American community which is rarely covered these days.(I was especially curious about the female condom.) Believable characters, good performances and a nice use of Brooklyn locations definitely help. The message is that AIDS is not automatically a death sentence anymore. So, there is little point in dwelling on the past, when we should be concerned in the present while having hope for the future. The movie even has a couple of good words for women's basketball. [/font]
Life Support Quotes
There are no approved quotes yet for this movie.