Life of the Party
(2007)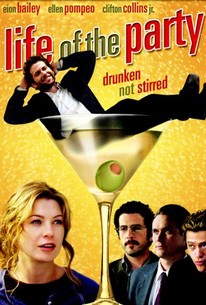 AUDIENCE SCORE
Critic Consensus: No consensus yet.
Movie Info
A former high-school track star who has taken to staving off reality with the all-too-occasional cocktail must summon the strength to save his marriage and pull back from the abyss when his friends and family stage an intervention that goes horribly awry. Michael Elgin (Eion Bailey) may have been a master of the track back in high school, but now he's hit his thirties and his once-perfect form has devolved into a depressing drunken stumble. Life after high school just wasn't what he expected, and when his wife (Ellen Pompeo) threatens to walk out while his career hangs by a thread Michael simply drinks away the pain. Michael isn't alone in life though, and when he crashes his best friend's car and emerges miraculously unscathed the people who care for him most plan an emergency intervention. When Michael arrives home one day to find his friends and family waiting for him it appears as if the jig is up, but the psychiatrist who was supposed to lead the intervention proves a no-show and crafty Michael skillfully convinces his guests to stay and party. Some things just aren't a laughing matter though, and as tensions flare and bottled-up secrets spill Michael finally begins to realize just how dire his situation has truly become.
Critic Reviews for Life of the Party
Audience Reviews for Life of the Party
I saw the preview for this at the beginning of a Zooey Dechanel movie. I had high hopes for this movie and it is entertaining but I just couldn't get into it. I turned it off about halfway through.
shane haley
Super Reviewer
Life of the Party Quotes
There are no approved quotes yet for this movie.