Life in a Day
(2011)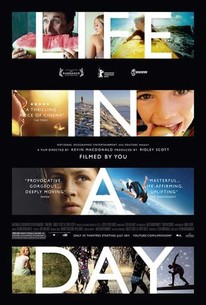 Movie Info
The 24th July 2010.... 80,000 Lives.... 4,500 Hours of Footage... 2 Award winning Filmmakers..... Now one incredible motion picture event. What began life as a startling cinematic experiment becomes the must see movie experience of the Summer. Created entirely from footage uploaded by YouTube users, Life in a Day is a film first: exhilarating, moving and very, very funny... it is the story of our world. Told by us. -- (C) National Geographic
News & Interviews for Life in a Day
Critic Reviews for Life in a Day
Audience Reviews for Life in a Day
The very idea of this film fascinated me, so I had to give it a shot. I must say, that if life itself fascinates you, you may just fall in love with this film, if you want to call it a film. These two directors asked people across the entire world to document their day and send in the footage so that this film could display the joys, struggles, happiness, and sadness surrounding us. This film displays these peoples lives very well, I just wish the film had been a little longer to explore a bit more of their lives, because in their videos they clearly wanted that. Life is intriguing to me and think this movie broadened my mind of how others view the world. "Life in a Day" is a very special film, that may not be groundbreaking, but it is very well put together.
Truly a groundbreaking achievement that shows the kind of art only possible in our "always connected" present. "Life in a Day" is the reason Youtube was invented. Away from gag-inducing pop, rant, and novelty videos is a global community capable of more than flaming each other in the site's comment sections. Over 80,000 video submissions have been cut and edited together in a glorious, sequential kaleidoscope depicting just what life meant to countless individuals in one day (July 24th 2010) from around the globe. The result is stunning, a meditative experiment that deserves comparison to the liked of "Baraka" and Godfrey Reggio's Qatsi trilogy. The viewer is taken on an emotional odyssey, through segments warm, sad, funny, disturbing; to uncomfortably voyeuristic. It's exhausting, it's scatter shot, and it's life. You'll be thinking about this after the credits role.
½
Life in a Day isn't the most moving piece of cinema ever made, nor is it capable of sustaining an audience's interest through out. But there's a lot of amazingly captured material here that was shaped into an awe-inspiring film that has a simple message. It's great to be alive.
Directors Cat
Super Reviewer
Life in a Day Quotes
There are no approved quotes yet for this movie.