Life as a House
(2001)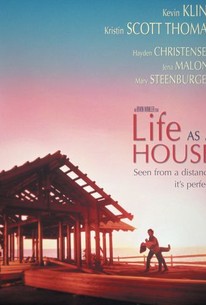 Movie Info
George Monroe has had a lifelong ambition to achieve one of the great American Dreams: to build his own home, a refuge set on a cliff at the end of the sea. But it's a dream that George has put off again and again while he's sunk lower and lower--ending up divorced, overworked and estranged not only from friends and family, but from himself. Now George has hit rock bottom and there's nowhere to go... except out onto the edge. His neighbors despise his sagging, dilapidated shack. His teen-aged son would rather stare into space than raise a finger to help him. His ex-wife, who once shared his dream, is now emotionally distant from him. Local city officials want to sabotage his plans. It seems there is no one left with any faith in him. But George is determined to build this house--even if it means refurbishing his entire life. He begins the project alone, but soon attracts a disparate group of people. What begins as a way for George to redeem his own dreams turns into something much bigger....
News & Interviews for Life as a House
Critic Reviews for Life as a House
Audience Reviews for Life as a House
Everytime aging Kevin Kline glooms over the welcoming sea and remembers when his wife loved him and holding his toddler son in the sand, laughing and crying, and then that music hits for five solid minutes, i just know, like telepathically that my grandmother is watching this same movie on t.v. and crying her eyes backward into her head, except she also hears the hateful, offensive rock soundtrack and so she silently judges it while she weeps.
Coxxie Mild Sauce
Super Reviewer
½
I am a big fan of Kevin Kline, and I think that this is one of his best movies. Very moving, and very well done. Great for anyone who likes a good drama.
Cynthia S.
Super Reviewer
½
George is having a bad year. Divorced, alone, estranged from his loser son, behind the times, he has no motivation. Then in the same day he gets fired and finds out he has terminal cancer. What a start to a movie! I enjoy this sort of movie - as George is dying, he resolves his issues with his ex-wife and son, Sam. Sam is having a tough time of it as well - needing drugs just to get by and withdrawing from the world. With the help of Alyssa, Sam helps his dad build a house and becomes less self-centred.
Life as a House Quotes
There are no approved quotes yet for this movie.