The Life and Times of Judge Roy Bean
(1972)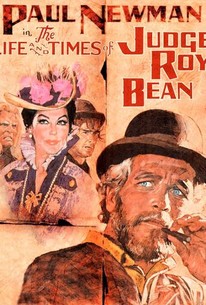 The Life and Times of Judge Roy Bean Photos
Movie Info
Paul Newman plays the title role in John Huston's surreal, revisionist western as the infamous Texas hanging judge. Upon arriving in the tiny West Texas town of Vinegaroon, Roy Bean draws a moustache on a wanted poster of himself, marches into a saloon, and declares his presence. He is immediately robbed, beaten within an inch of his life, tied to a horse and dragged out into the prairie, then left to die. Rescued by a young Mexican girl, Maria Elena (Victoria Principal), Roy Bean heads back into town and murders everyone in the local saloon, declaring that he'll kill anyone of the same sort who turns up. He also sets himself up as the sole arbiter of law and order and renames the town Langtry, in honor of the legendary actress Lily Langtry (Ava Gardner). The community prospers as Judge Bean dispenses his own brand of frontier justice upon strangers passing by, robbing or killing anyone who tries to make their way through the town. But when Maria dies, Bean's old associates begin to turn on him, one at a time (in response to his constant harping on their wives, many of whom were former prostitutes) and Bean is forced to leave. Years later, Bean rides back into town, called back to the place to save his daughter from trouble - and finds that the community has been taken over by a shady character called Frank Gass (Roddy McDowall) - a circumstance that requires Bean to dispense his own unique brand of justice once again. Stacy Keach lends a neat comic turn to the film as Bad Bob, an albino gunslinger whose dining habits consist of chowing down on raw onion, drinking hot coffee from a pot, and demanding that an entire horse be cooked for his supper. John Milius (Red Dawn) scripted.
Critic Reviews for The Life and Times of Judge Roy Bean
Audience Reviews for The Life and Times of Judge Roy Bean
½
John Huston and Paul Newman, et al, team-up to relate the story about Texas' infamous hanging judge. Well, that's the idea. What we get instead is sort of a barroom myth ala Paul Bunyan, that leans into cuddly sentimentality a shade too much. Despite the heavy hitters, this one is forgettable.
Kevin M. Williams
Super Reviewer
½
At the start of "The Life and Times of Judge Roy Bean," the title character(Paul Newman) is not yet a member of the legal profession. Quite the opposite, in fact, as he is an outlaw in the badlands west of the Pecos, intent on bragging, drinking and whoring but is instead savagely beaten and left for dead. However, Marie Elena(Victoria Principal) takes pity on him, nurses him back to health and gives him a gun. After Bean gets his revenge on all concerned, Reverend LaSalle(Anthony Perkins) comes along to give some advice and help bury the bodies. Bean decides to take up being the law of the land with help from some incompetent criminals who make betters marshals. Written by John Milius, directed by John Huston and performed by an eclectic cast(wait until you see Stacy Keach), "The Life and Times of Judge Roy Bean" is a mischievous and irreverent western. By going a different route, the movie gets quite a lot right in how the west was won, going from lawlessness to legal brutality to respectability, as Judge Roy Bean helps make Texas safe for normal people. At the same time, the movie gives a very good idea about the kind of people who moved west to make a new life for themselves, many of them outcasts.
Really entertaining film and it owes a lot to what I think is one of Paul Newman's best performances. I enjoyed the film and it's funny watching this and realizing what a pot head John Huston was. The film looks gorgeous and it's both hilarious and sad at the same time. I don't know why, but the ending got to me even though the whole idea is bat shit crazy. Great cast.
The Life and Times of Judge Roy Bean Quotes
There are no approved quotes yet for this movie.