And Life Goes On (Zendegi va digar hich) (Life, and Nothing More)
(1996)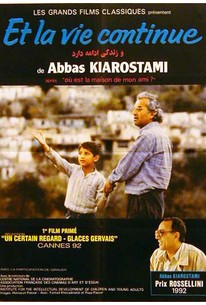 And Life Goes On (Zendegi va digar hich) (Life, and Nothing More) Photos
Movie Info
The thin distinction between fiction and reality comes in for some blurring in this fact-based near-documentary. Learning of a major earthquake, the director of a children's movie, Where Is My Friend's Home?, is worried about two of his performers in that film. He sets out with his son to interview the survivors and learn the fate of his two acquaintances. However, he hires locals to play himself and his son and hires local earthquake survivors to play other earthquake survivors. When his alter-egos discover the actors, they are two people who have been hired to impersonate the two men. Even though every story told by the filmmaker is accurate, as are the settings and scenes of devastation, everything is just one step away from reality. Even unsympathetic reviewers saw some saving grace in this self-conscious posturing, in that it is aware of itself; as one old man says: "They told me to say this was my house, but my real home was destroyed in the quake." In addition to coy games played with reality, the film is a moving testament to the will to survive and get on with life, as it shows refugees crowded into a tent to cheer a soccer game being shown on television. Director Abbas Kiarostami has explored the blurred line between fiction and reality before in his well-received film Close-Up, a true story about a man who was arrested for impersonating a movie director, featuring all the real-life participants in a slightly fictionalized re-telling of the events. ~ Clarke Fountain, Rovi
Critic Reviews for And Life Goes On (Zendegi va digar hich) (Life, and Nothing More)
Audience Reviews for And Life Goes On (Zendegi va digar hich) (Life, and Nothing More)
½
Kiarostami blurs once again the line that separates reality and fiction, this time even making a reference to one of his previous films to offer us a delicate, compelling look at how people can move on with their lives and even help each other in the face of a terrible real tragedy.
Carlos Magalhães
Super Reviewer
½
absolutely brilliant next-level stuff, but don't watch it until you've seen 'where is the friend's home?' it's a crime that these aren't available on dvd in us
Stella Dallas
Super Reviewer
And Life Goes On (Zendegi va digar hich) (Life, and Nothing More) Quotes
There are no approved quotes yet for this movie.