Liberal Arts
(2012)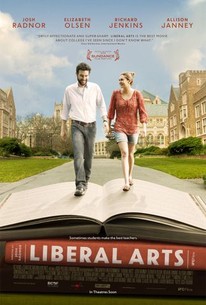 TOMATOMETER
AUDIENCE SCORE
Critic Consensus: While it's hard not to wish it had a little more bite, Liberal Arts ultimately succeeds as a good-natured -- and surprisingly clever -- look at the addictive pull of nostalgia for our youth.
Movie Info
Newly single and uninspired by his job in college admissions, the introverted Jesse Fisher (Josh Radnor) lives with his head buried in a book. His deep nostalgia for his own alma mater in Ohio - the dining halls and dorm rooms, the parties and poetry seminars - makes him wonder if his best days are behind him. So when his favorite professor (Richard Jenkins) invites him back to campus to speak at his retirement dinner, Jesse jumps at the chance. Meeting Zibby (Elizabeth Olsen) - a precocious classical music-loving sophomore - awakens in Jesse long-dormant feelings of possibility and connection. -- (C) Official Site
News & Interviews for Liberal Arts
Critic Reviews for Liberal Arts
Audience Reviews for Liberal Arts
Like Ted Mosby, Josh Radnor has a lot of thoughts about the pursuit of knowledge, the impetus of young love, and the sanctity of the written word. His dialogue rings like poetry, and his main character reminds us of the wistfulness of Holden Caulfield, the indifference of "The Graduate", and the romanticism of a Pablo Neruda poem. While Radnor wrote and directed very dreamy characters in a realm of stasis that we can all love easily, and grasp at bigger than life issues, there's just something off about this indie darling. We all must have groaned when we learned that the relationship at the crux of the film is between middle aged Radnor and co-ed Zibby (Olsen). While I believe it was handled with delicacy and thoughtfulness, the trope of the older man being quelled by the "manic pixie dream girl" has been done to death. The side story of the former mentor, played by Richard Jenkins, wasn't quite palatable. Jenkins' character serves as an antagonistic benchmark against the rest of the characters, but every time we see him deal with the complexities of remorse it was absolutely boring. The ending did have me swoon, but made me wonder what the point of Jesse's journey was? Was the moral that we shouldn't stay in the past, or possibly was it that we should chase our dreams? Radnor tries to argue for both points and in the end doesn't cover either succinctly. More time on certain relationships and issues would have created a better story.
Spencer S.
Super Reviewer
A very effective drama about whether or not a 35 year old man should be a with a 19 year old girl. Honestly throughout the film they make you think it is okay and then turn it around and make you feel guilty for thinking that, but the chemistry between the two leads is phenomenal. I really really enjoyed my viewing of this film and it gave me a whole new perspective on how some people think and how they are motivated by other things. Overall, I think this is a very powerful film in the way it tries to get it's story across. "Liberal Arts" is one of those independent films that comes around ever couple years, that may not be amazing, but it will leave a warm feeling in your heart by the end. Highly recommended.
MisterYoda ?
Super Reviewer
Liberal Arts Quotes
There are no approved quotes yet for this movie.