Liar Liar
(1997)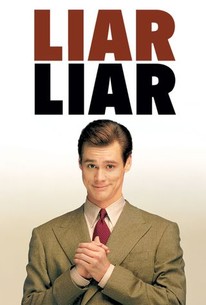 TOMATOMETER
AUDIENCE SCORE
Critic Consensus: Despite its thin plot, Liar Liar is elevated by Jim Carrey's exuberant brand of physical humor, and the result is a laugh riot that helped to broaden the comedian's appeal.
Movie Info
An attorney who tells the truth for 24 hours straight? This has got to be the movies! Fletcher Reede (Jim Carrey) is a lawyer obsessed with his career, and he's devoted his life to bending the truth to his advantage. This habit has broken up his marriage to Audrey (Maura Tierney) and isn't doing much good for his relationship with his young son Max (Justin Cooper). Fletcher repeatedly promised Max that he'll be there for Max's eighth birthday party, but when an important assignment comes up at work, Fletcher calls Audrey and makes an excuse so flimsy that even Max can see through it. When it comes time to blow out the candles on his cake, Max makes a wish: that his Dad could go just one day without telling a lie. Suddenly, Max finds himself physically incapable of saying anything that isn't true -- which, given the divorce settlement case he's just been handed, is going to make his next day in court very interesting indeed. While designed to show off a warmer and more likable side of Jim Carrey's personality, Liar Liar still revels in the broad physical comedy that made Carrey a star in Ace Ventura, Pet Detective -- which makes sense, since both were directed by Tom Shadyac. Both Carrey's fans and foes will get a chuckle out of Swoosie Kurtz's tongue-in-cheek insult to the film's star in the blooper reel that runs under the final credits. ~ Mark Deming, Rovi
News & Interviews for Liar Liar
Critic Reviews for Liar Liar
Audience Reviews for Liar Liar
The story is clever and to top it off, the over-the-top hysteria of one Jim Carrey gives audiences every reason to laugh. Liar Liar gives the honest-to-God truth and keeps you laughing towards the end. 5/5
Eugene Bernabe
Super Reviewer
Max Reede: I wish, for just one day, Dad couldn't tell a lie.  "Would I lie to you?" Here's the thing with Liar Liar; it's just not funny. It's not and even everyone involved knows it isn't. When a concept comedy, like this should have been, is turned into an all out silly, gag fest; it undermines the genre. The concept isn't bad. A lawyer can't lie for a day because his son, whom he is constantly lying to, makes a wish that for one day he won't. It could lead to some funny court room scenes, but instead the movie rides on Jim Carey's Ace Ventura character's manifest. It's all too ridiculous to find funny. I don't dislike Jim Carey. His form of comedy works in some movies, but I don't think this is one of them. Also, I believe Carey really can act if he throws the ridiculous demeanor aside and truly just acts, like in Eternal Sunshine for the Spotless Mind. This movie really falls apart with me after we have to constantly see Carey's character screaming and twitching and God knows what else. I wouldn't go as far as to say this is a terrible movie because it has good intentions, and good intentions are good. I just think it is badly judged and goes in the complete wrong direction from where it should have. Obviously a lot of people love this movie, and for what reason, I'll never know. Even for the Jim Carey comedies that are ridiculous, this one falls very, very low for me. Watch it if you must, but just know, it's no classic.
Melvin White
Super Reviewer
I love this movie! I think its great, i love the concept and its truly an original highly amusing movie that Jim Carrey is perfect for! A great movie for the whole family and well worth the watch!
Film Crazy
Super Reviewer
Liar Liar Quotes
There are no approved quotes yet for this movie.