Leviathan
(2014)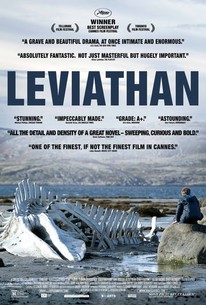 Movie Info
The latest drama from Andrey Zvyagintsev, the acclaimed director of The Return (Venice Film Festival Golden Lion winner and Golden Globe nominee). Kolya (Alexeï Serebriakov) lives in a small fishing town near the stunning Barents Sea in Northern Russia. He owns an auto-repair shop that stands right next to the house where he lives with his young wife Lilya (Elena Liadova) and his son Roma (Sergueï Pokhodaev) from a previous marriage. (C) Sony Classics
News & Interviews for Leviathan
Critic Reviews for Leviathan
Audience Reviews for Leviathan
Gorgeously shot and with some fine performances, Leviathan is striving to bring the story of Job to modern Russia. What answer can a man who is showerd by suffering give to life? And the protagonist of this film suffers a lot and without a reason. Suffering comes from outside, from the symbolic Leviathan - be it the the corrupt mayor, the unpredictable human emotions (his wife's, his friend's and his son's) or life itself. Unlike the story of Job, the protagonist's adventure does not have a closure. We never see what answer, if any, he gives to his story of suffering. The finale is a very pessimistic one then. This lack of closure leaves an usatisfactory feeling in the end and makes the film's finale less nuanced by turning it to a bitter satire. (See the last scene with the church, the mayor and the shot with the expensive cars.) I was left with the impression that while the film tried to fish out Leviathan, the monster managed to break away in the end and dived into the depths from where it came. In other words, the big questions this film invokes are left hanging on the air. The existential symbols and the social satire do not compliment each other very well here. Despite this flaw though the film's atmosphere and desolate landscape of northern Russia is haunting and the film stays with you.
George Matalliotakis
Super Reviewer
½
"Leviathan" starts with Dmitriy(Vladimir Vdovichenkov) visiting his friend Kolya(Aleksey Serebryakov). But Dmitriy did not come all the way from Moscow for a social call or for drunken shooting practice. He is a lawyer who is seeking to prevent Kolya's lakeside house from being seized by Vadim(Roman Madyanov), the local mayor. At first, he is little help as Kolya loses his appeal. However, Dmitriy has some information on Vadim he plans on using as leverage next. Even as it might seem anti-climactic and maybe a little slowly paced, "Leviathan" does end on one heck of a kicker. Otherwise, this is a finely textured movie about the universal themes of being trapped in a situation not of one's making.(This movie is inspired by a real life incident that happened in Colorado.) In this beautiful landscape dotted with both organic and inorganic wreckage in Russia, as depicted here, the Orthodox Church has an outsized influence in worldly matters, especially illustrated in the meetings Vadim holds in his office with a priest. That this is not always in the best interests of the people is best expressed in a scene where another priest, instead of giving Kolya practical advice like say lay off the drinking, chastises him for not attending church.
I am so happy to be all in on these types of dramas. Leviathan is a 140-minute Russian drama about a man living in a Russian coastal town, who is forced to deal with a corrupt mayor wanting to take away his land. There are many other characters involved, various turns in the story, and a lot of symbolism both religious and otherwise (this story is a modern reworking of the Book of Job), but my main takeaway was how engaged I was throughout a film like this, given the dreariness of the scenarios and even the setting presented. The story is not striving to be any sort of ambitious new take on a cinematic tragedy, but it is quite well-acted, well-assembled, and far more interesting than lesser attempts that layer the melodrama a bit to thick. read the whole review at thecodeiszeek.com
Aaron Neuwirth
Super Reviewer
Leviathan Quotes
There are no approved quotes yet for this movie.