Level Up
(2016)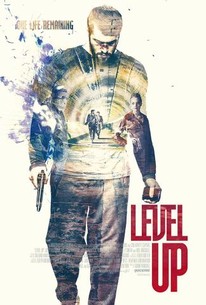 Movie Info
A deadbeat gamer's girlfriend is kidnapped. Her kidnappers lock a mysterious vest on his body and keep in contact with him by phone, issuing increasingly ludicrous and dangerous challenges he must complete to keep her alive and forcing him to fight his way across London. When he discovers who kidnapped her and why, he learns he is part of a game far larger than himself - and the stakes of the game are very high.
Critic Reviews for Level Up
Audience Reviews for Level Up
Grand Theft Auto is one bigtime vidgame dream where you can follow some writer's storyline or, better yet, verge away and wander the game to do your own thing. What if some moviemaking game players somewhere had a thought of their own? Something along the lines of: "what if some anonymous bad guy types took some innocent gamer types and put them into game-like situations? We'd combine movies with game play! It would be sooooo kewl!" Well that's kinda what happened here, only it's not as kewl as planned, or hoped. It does kinda work as a unintentional advert for Grand Theft though.
Kevin M. Williams
Super Reviewer
Level Up Quotes
There are no approved quotes yet for this movie.