Let the Bullets Fly
(2012)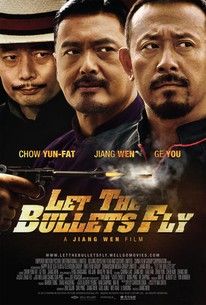 Let the Bullets Fly Photos
Movie Info
Since its release this year, Let the Bullets Fly has been lauded across the globe for its stunning mix of dark comedy and eye-popping violence. In China, this action-comedy starring Chow Yun-Fat has become the highest-grossing domestic film of all time. Set in 1920s Sichuan, the film tells the tale of the bandit "Pocky" Zhang Mazi, who poses as a local governor in a dusty town- but finds himself at odds with the local mobster, who is not eager to share his turf with another drifter. A complex and deadly series of mind-games ensues between the two crooks, which are as violent as they are hilarious. The rare foreign-language comedy that translates without a hitch, Let the Bullets Fly will have you falling out of your seat with laughter. -- (C) Variance
News & Interviews for Let the Bullets Fly
Critic Reviews for Let the Bullets Fly
Audience Reviews for Let the Bullets Fly
An outrageous, high-octane and uproariously entertaining action-packed comedy. A stylish, superbly crafted and brilliantly performed movie that has lots to offer. An utterly hilarious and fun movie that combines incredible comedy, sensational action sequences and great set pieces. A Shakespearean tradition, stuffed with lively characters, dramatic stand-offs, wonderful laughs and a great story. A masterpiece. A true work of insane remarkable art. An bullet-blasting, two hour roller-coaster ride of undeniable fun and excitement. I loved this movie. A spectacular and really funny action movie that's fierce, really cool and wildly epic. Chow Yun-Fat is truly brilliant and hilarious. Jiang Wen is outstanding. Ge You is outrageous. You, Wien and Yun-Fat play each other off wonderfully and shine with magnificent chemistry. They give some very impressive and damn near perfect performances. It`s almost too much fun to handle and even then you cant help but enjoy it. An instant classic. Director and star, Jiang Wen crafts a superb and magnetic action picture that is more than meets the eye.
Let The Bullets Fly is unusually complex for a comedy, but it's also one of the funniest movies I've seen in a long time. With a great cast of characters and lots of funny jokes it was all around just a fun experience. Let the Bullets Fly is set in China during the warring 1920s, notorious bandit chief Zhang descends upon a remote provincial town posing as its new mayor, an identity that he had hijacked from Old Tang. Hell-bent on making a fast buck, Zhang soon meets his match in the tyrannical local gentry Huang as a deadly battle of wit ensues. I really enjoyed complexity in movies, especially when it's this much fun and enjoyable. I don't think I've ever seen another comedy with so many funny and smart characters. There fun, smart, brutal, and they add more fun to the movie with each character having there own personality. Now one thing I think audiences will be disappointed in is that there isn't much violence, but I don't they'll mind with the fun they'll have watching this. The cast of this movie is well put together and they deliver great performances to get behind. Each actor felt so perfect and fit perfectly into there character and they got great comedic timing. My favorite of these performances is Yun-Fat Chow as he's pretty effective and fun in a comedic role. I will praise the few scenes of violence even though they're not long, what come afterward are always some smart humor. Now I don't know about other reviewers, but I just love the location where this was filmed. It's a beautiful country and I can't think of a better place they could have shot it. Let The Bullets Fly is a smart complex comedy with tons of hilarious jokes and tons of fun. It's a comedy unlike anything you've seen before and it'll definitely will bring enjoyment for anyone looking for a laugh.
Caesar Mendez
Super Reviewer
½
A big sack of fun is this one, clever, funny and always enjoyable. The story comes and goes a bit too much around the middle, but the final act wraps everything so well. The commie-oriented message, our hero taking away goods from the evil capitalist bad guy and giving them to the people, acquires a more complex structure thanks to a solid script. The "people" are just as greedy as the bad guy, if not more.
Tsubaki Sanjuro
Super Reviewer
Let the Bullets Fly Quotes
There are no approved quotes yet for this movie.