Let It Shine
(2012)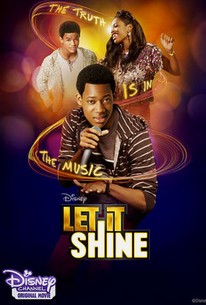 AUDIENCE SCORE
Critic Consensus: No consensus yet.
Movie Info
A young hip-hop hopeful from Atlanta, Georgia fights to keep his dreams from slipping though his fingers when his best friend takes the credit for all of his creativity, and the girl he loves starts to fall for the wrong guy in this contemporary take on the tale of Cyrano de Bergerac. Cyrus DeBarge (Tyler James Williams) is a talented young lyricist who should be up on the stage instead of bussing tables. But his father (Courtney B. Vance) fals to see the value in hip-hop, and without the confidence to face the crowd, Cyrus' talent will never truly shine. When Cyrus and his best friend Kris (Trevor Jackson) learn that their old friend Roxie (Coco Jones) is sponsoring a major songwriting contest, Cyrus dubs himself "Truth" and filters his feelings for Roxie into a rhyme that takes the top prize. But there's a catch; Kris has been credited as the lyricist, and to make matters worse, smitten Roxie is none the wiser. Later, as the girl he loves starts to slip away and Kris refuses to give up the charade, Cyrus realizes that the time has come to stand up, let the truth be known, and take his one shot at stardom.
Critic Reviews for Let It Shine
Audience Reviews for Let It Shine
I don't know why I like this film so much, is it the catchy music, the good acting, I don't know. The story of this film is clichéd but the execution is just sublime, the story is that Cyrus produces a song for this competition from a famous singer called Roxanne who Cyrus knew in school, he enters the competition and wins but by accident his friend Kris gets mistaken as the winner because Cyrus sent in a photo of him with Kris. Kris then has to pretend to be Cyrus and Cyrus has to hold back his emotions. The acting by the whole cast is phenomenal especially Tyler James Williams who is just magnifying. I did say the story is clichéd but the writing does make you care for the characters, so when at the end of the film you really do care about what happens. the music is what will break or make this film and oh my god this film has some of the catchiest music ever, like when I heard the song "don't run away" I couldn't get it out of my head and that is a credit to the people who wrote the song and Tyler James Williams. This is honestly one of my favourite films, it's not for everyone but I can't help but love it. I give this film 10/10.
Sonny Huds
Super Reviewer
½
[img]http://upload.wikimedia.org/wikipedia/en/thumb/6/66/Let_It_Shine_Disney.png/220px-Let_It_Shine_Disney.png[/img] This Disney Production musical premiered on Disney Channel and it featured an ensemble cast of Tyler James Williams, Coco Jones, Trevor Jackson and Brandon Mychal Smith. The story of a pastorr's son who is talented rapper and musician - and is some kind of a young African-American Cyrano de Bergerac. The main character is named Cyrus DeBarge and he and his best friend Kris McDuffy reunite with their childhood friend, teenage singing sensation Roxanne "Roxie" Andrews, whose music label is sponsoring a songwriting contest at a teen club... I think that is enough of the story... that wasn't the strongest point of the movie... I'll mentions that the film was directed by Paul Hoen and written by Eric Daniel and Don D. Scott and the result wasn't too great! The music is too ordinary with the exceptions of couple of songs out of 13 originals - all the tracks were written by top songwriters and producers in the pop and R&B business but unfortunately, the soundtrack does not feature the famous lines of "Roxie, I'm sorry" as in the film version of "Me and You" performed by Tyler James Williams (Cyrus) and Coco Jones (Roxie). It's a movie designed for a certain age - younger school kids - and if you're looking for a high quality entertaining art work - better skip it. If you are church goer and you want your kids to have restricted access to the bad influence of the "world", maybe you could choose it as an option for Saturday night!
Let It Shine Quotes
There are no approved quotes yet for this movie.