Lessons of Darkness
(1995)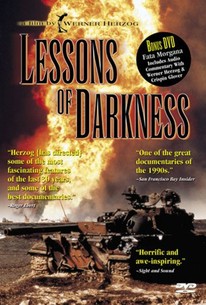 Movie Info
Straddling a line between documentary and science fiction, Werner Herzog's Lektionen in Finsternis is an epic visual poem set in the burning oil fields of Kuwait following the 1990-1991 Persian Gulf War. Herzog, as much a daredevil as a documentarian, took his small crew in a helicopter and, floating above the fields, photographed jaw-dropping footage of the blazing, blackened landscape. Alternately horrific and majestic, the movie is a phantasmagoric, if distanced, catalog of horrors. Boiling lakes of crude oil, twisted scraps of melted metal, and ominous billows of smoke and fire abound. On the ground, the images are just as otherworldly. Herzog filmed scenes of firemen in full-body suits, working -- futilely it seems -- to contain the blaze. There are also a couple of interviews with Kuwaiti women, who talk heartbreakingly of the brutalities they suffered at the hands of Iraqi soldiers. In his voice-over narration, Herzog assumes the identity of a spectator from another planet, making bemused comments about the catastrophe with no attempt to inform the viewer of the factual circumstances behind it. His high-flown rhetoric, dense with mythical portent and allusiveness, underscores this visionary movie's detached view of the destruction of the Kuwaiti oil fields.
Critic Reviews for Lessons of Darkness
Audience Reviews for Lessons of Darkness
Apocalyptic, nightmarish, but at the same time, a very beautiful poem-like documentary. Director Herzog succeeded to create such a mythical story to accompany the raw, visceral footages of the chaotic Kuwaitian oil fields. The lack of narrative but more use of operatic music adds to the film's hypnotic effect. There is never been a film where apocalyptic images is shown as beautiful as it is depicted in this little masterpiece of filmmaking. A film to be experienced but a great bore for someone not interested with these kind, particularly Herzog's films.
Ivan Descartin
Super Reviewer
Lessons of Darkness Quotes
There are no approved quotes yet for this movie.