Les femmes de l'ombre
(2008)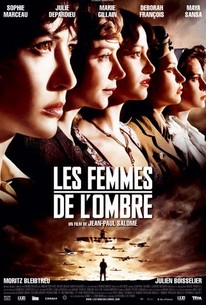 Les femmes de l'ombre Photos
Movie Info
A handful of women use their smarts and allure in the service of the French Resistance in this historical drama set during World War II. Louise (Sophie Marceau) is a beautiful woman recruited into the French underground by her brother Pierre (Julien Boisselier) while Nazi forces occupy their homeland. Maurice Buckmaster (Colin David Reese) is a British agent who smuggles Louise into London to give her a special assignment -- a British scientist working with weapons research has been captured by Axis forces and is being held in a French hospital. Louise is ordered to put together a team of female resistance fighters to find the scientist and smuggle him to safety before he can be forced to tell Nazi intelligence what he knows. Louise's band of heroines includes Gaelle (Deborah Francois), who knows about demolition; Jeanne (Julie Depardieu), a streetwalker more interested in her own survival than the future of France; Suzy (Marie Gillain), a nightclub entertainer who was romantically involved with a German officer; and Maria Luzzato (Maya Sansa), a Jewish noblewoman who is on hand to help the other women when they make their way back into France. Les Femmes de l'ombre (aka Female Agents was inspired by the true story of Lise Villameur, who served with French resistance forces during the Second World War.
Critic Reviews for Les femmes de l'ombre
Audience Reviews for Les femmes de l'ombre
½
This war thriller is incrediblily and inspired by the multi-decorated wartime agent Lisa Villameur, director Jean-Paul Salome's beautifully nuanced film focused on the remarkable behaviour of women whose actions were often overlooked in favour of their male counterparts. The thrill is in the way Salome presents his story. This is no rose-tinted period reinvention, but an old-fashioned action film with a grim determination. These scenes are beautifully shot - watch out for the most iconic use of train steam this side of The Railway Children. From the claustrophobic nightmares of inquisition to an underground scene that's coordinated with ballet-like elegance, Salome's war is always graceful but never black-and-white.
Dean McKenna
Super Reviewer
½
A welcome return to those classic WW2 movies of yester years.Good build up and great tension and some good performances from the female cast.The movie felt like the old war movies i use to watched wheni was a kid and thats one of the reason i have given this movie a high score.Being a french movie and not a hollywood one you can't get any better.If you missed those war movies you you to watched treat yourself.
Brian De Guelle
Super Reviewer
very impressive movie. It shows true struggling between faith and affection, choices between life and death... and it is more like a agent story than those fancy 007 kind.
Janice Yan
Super Reviewer