Leningrad (Attack on Leningrad)
(2011)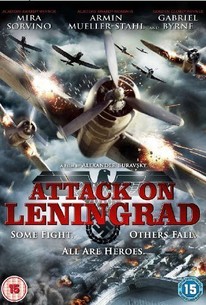 AUDIENCE SCORE
Critic Consensus: No consensus yet.
Leningrad (Attack on Leningrad) Photos
Movie Info
Director Aleksandr Buravsky revisits the Nazi siege of Leningrad through the eyes of a British journalist being targeted by the KGB in this sweeping historical drama. The year is 1941. As Hitler's forces take hold of Leningrad, UK war correspondent Kate Davis (Mira Sorvino) finds herself trapped in the city, and desperate to reunite with her lover Philip Parker (Gabriel Byrne), a U.S. journalist. As death shadows her every move, Kate befriends local militia woman Nina Tsvetkova and a pair of Russian children. Only with their help can Kate hope to make it out of this nightmare scenario alive. ~ Jason Buchanan, Rovi
Critic Reviews for Leningrad (Attack on Leningrad)
There are no critic reviews yet for Leningrad (Attack on Leningrad). Keep checking Rotten Tomatoes for updates!
Audience Reviews for Leningrad (Attack on Leningrad)
Attack on Leningrad is a pretty good movie, but one that I found to be a bit disappointing as well. By the looks of the trailer, it looked like this was going to be a sweeping war movie, it was, and wasn't. The film started well, quite exciting and thrilling, but it slowed down near the end, and it felt like the filmmakers didn't know how to conclude the story. I thought it was a decent ending, but one that could have been much better. The film is inaccurate, but for the most part, it shows us the chaos of what it was like for the Russians fighting. There was something missing from the film's script to really make it standout among other genre picture. The cast on the other were quite good, and elevated the average material enough to make this film watchable. This is not an awful film, it's just that it lacks in terms of authenticity and great storytelling. The film shows a bit of the suffering during the Second World, but it could use a more in depth structure to tell this compelling story. As a drama film it's average and as a war film, it's nothing remarkable. Despite the movies flaws, it's a worthy film to watch, but it really doesn't stand out among some of the best War films ever made. The film had so much potential in being a terrific experience, but it leaves you wanting more. The cast, like I said make it good, but at times there are things that really don't fit and fall flat. Attack on Leningrad should have been a memorable genre movie, but it's one of those movies that doesn't necessitate multiple viewings. Entertaining, but the script and execution could have been better overall.
Leningrad (Attack on Leningrad) Quotes
There are no approved quotes yet for this movie.