Lemming
(2006)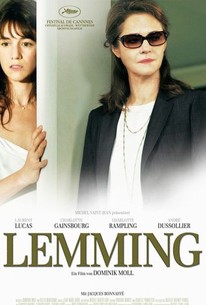 TOMATOMETER
AUDIENCE SCORE
Critic Consensus: A creepy psychological thriller, with superb performances and natural tension flowing from every frame, Lemming is a worthy successor to Dominik Moll's With A Friend Like Harry.
Movie Info
Alain Getty, a brilliant young home automation engineer, and his wife Benedicte having recently arrived in a new town, invite Alain's boss Richard Pollock and his wife Alice to dinner. The encounter does not leave the young couple's harmony unscathed. The discovery of a mysterious rodent's corpse blocking the waste pipe of their kitchen sink does nothing to help and portends the bursting of irrationality into a hitherto orderly life.
Critic Reviews for Lemming
Audience Reviews for Lemming
A French thriller, starring one of my favorite actresses, Charlotte Gainsbourg, as Bendicte, the wife of Alain (Laurent Lucas), who has moved to a new town for his job. He is befriended by his boss, Richard (Andre Dussollier) along with Richard's wife, Alice (Charlotte Rampling). The friendship quickly becomes a nightmare scenario because of the mental instability of Alice. I had trouble connecting to this, as it tended to rely on what appears to be the supernatural for its logical structure. A lot of strange things happen that seem to have no relation to each other, except in the most superficial way and I just felt like the attempt to bring them all together lacked finesse. The tension depends on trying to figure out whether the events were actually happening as Alain experienced them, or were the product of a psychotic break or a lingering effect from an traffic accident he winds up having. All in all, more than a tad unsatisfying. I'm still not sure what the lemming was supposed to signify. Alain finds one in their kitchen sink drain early on and it shows up in several scenes after that, but it seemed not to serve any purpose other than to lend its name to the film!
Mark Abell
Super Reviewer
Lemming is handsomely acted by 3/4ths of its principal cast and never dull by any means, but the sum of these parts sort of falls short. The movie could have ended at the 45-minute mark and I wouldn't have missed anything, save a hokey dash of the supernatural and an excruciating protraction of an already hamfisted metaphor. I turned the movie off not feeling too satisfied. Lemming is pervaded with characters making illogical choices in interaction. When someone in a film acts strangely, I enjoy trying to figure out why with the information a viewer has that the other person in the dialogue may not; it's an interesting dramatic technique that helps you get behind both the characters and their actions. Unfortunately, this happens all the time in Lemming but the motives are never really clear. It felt like the characters were being obtuse for the sake of keeping each other in the dark and manufacturing misunderstandings, which is a huge pet peeve of mine. Learn how to communicate like the normal people you supposedly are and maybe this shit won't happen to you! I really had a lot of trouble sympathizing with the characters because of this, but the strong portrayals sort of recoup lost ground here. Charlotte Gainsbourg is a great fit in her part - I always enjoy seeing her in movies because she's clement and effortless, much like her even-tempered Benedicte here. Laurent Lucas, who I definitely don't remember from Who Killed Bambi (not that I remember much about that movie), is also surprisingly effective. He radiates a sort of loyal intensity, a quality that makes you believe in his devotion to his wife even when the script isn't really. Charlotte Rampling's screen time is brief but she is an imposing specter, lingering through the movie. Seeing the effects that radiate from her presence is the most interesting part of a movie that usually just dead-ends itself. The only weak link here is Andre Dussollier, whose IMDB page suggests that he's one of those prolific character actors that just don't really give a shit. His one mode of expression here would corroborate this, but as he's the least important character in the movie, I guess things could be worse. I wasn't particularly expecting much from the movie, and that's just about what I got. I put it on my Netflix queue because I am quite fond of both of the Charlottes and wanted to see how they would fare in a thriller. The answer: they are disserviced by their material. Entertaining but sort of watery, Lemming's content probably doesn't justify its run time, unless you are really looking to kill two hours.
Drew Smith
Super Reviewer
A gripping, underrated, French thriller. I thoroughly enjoyed Lemming, it never lost my attention. The story is twisted and surreal, at times a little too weird but makes it more engaging. The cast is wonderful. Charlotte Gainsbourg is a very talented actress and deserves more recognition; all the other leads Charlotte Rampling, Laurent Lucas and André Dussollier are more than competent. Nice usage of the Mamas and Papas, 'Dream a little dream of me' at the end, added a great effect to the film. Lemming is an interesting, fresh and stylish film which definitely deserved more attention than it received.
Shauna Robinson
Super Reviewer
Lemming Quotes
There are no approved quotes yet for this movie.