Legend of the Fist: The Return of Chen Zhen
(2011)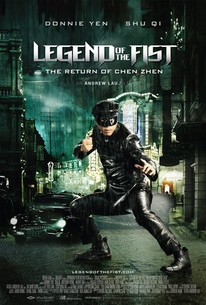 Legend of the Fist: The Return of Chen Zhen Photos
Movie Info
Legendary Kung Fu hero Chen Zhen is an iconic cultural mainstay in China and Hong Kong, having spawned both record-breaking feature films and a TV series. Over the years, martial arts legends such as Bruce Lee (FIST OF FURY) and Jet Li (FIST OF LEGEND) have played the popular hero. In LEGEND OF THE FIST: THE RETURN OF CHEN ZHEN, Donnie Yen continues this rich historical legacy, but with a brand new take on the urban legend. In 1920s China, the nation is divided by infighting. Japan has become the most powerful force in Asia, taking over Northern Shanghai. With the city torn in half by international conflict, the popular nightclub "Casablanca" has become a hotbed of spies, mobsters, English officials and the Japanese military- all looking to gain control of the country, with little regard for what happens to its citizens. Into this den of intrigue enters Chen Zhen (Donnie Yen), who has returned to China after fighting alongside the Allied forces in Europe, bringing some dark secrets from his past along with him. During the day, he's known as "Ku", and appears to be just another wealthy playboy. But at night, he takes to the street as a masked warrior, determined to subvert the Japanese invasion while becoming entangled with the sultry Kiki (Played by Shu Qi), who has a dangerous secret of her own. When his past catches up to him, Zhen is faced with near impossible odds- but his skills are formidable, and he's up to the challenge. Combining the best of today's martial arts and superhero action with the classic spy thrillers of the past (and a healthy dollop of film noir on top), LEGEND OF THE FIST is the rare action film that truly gives the audience something they've never seen before. --(c) Variance
News & Interviews for Legend of the Fist: The Return of Chen Zhen
Critic Reviews for Legend of the Fist: The Return of Chen Zhen
Audience Reviews for Legend of the Fist: The Return of Chen Zhen
½
[img]http://images.rottentomatoes.com/images/user/icons/icon14.gif[/img]
Directors Cat
Super Reviewer
½
IP MAN THRE.... Wait. What the hell? Chinese superhero? He's got the same costume as the dude from "Green Hornet". "Legend of the Fist: Return of Chen Zhen" sucked. Straight up. Here are some positives: great production value, great sets and costumes, and for a little bit, great cinematography and camera work. I like Donnie Yen; he was great in both Ip Man's but there was no way that his flashy fighting moves could overcome all the shortcomings of this movie. The plot was ridiculously uninteresting not because of the content itself -- it was simply slapped in. Just a bunch of dialogue that had absolutely no heart or character development behind it. Many are probably thinking, "This is a kung-fu movie. What do you expect?" Well then, I guess they didn't know what they were trying to make the movie then; its excessive but gritty violence and portrayal of the story calls for an effective drama, then we get super cheesy shots of a Chinese superhero standing ontop of a clock tower. Not to mention, the action was a bore (except for the opening war scene). What I found particularly annoying was how abrupt every scene was in conveying the emotions it wanted to instill upon the audience. What I mean by this is that most movies have a flow to build character development, relationships, a sense of accomplishment or loss. "Legend of the Fist" rushes through it and it completely breaks the flow (the thought of becoming a superhero is never elaborated on and he literally jumps into a suit, the relationship he builds with some girl is never truly built, and the ending scenes after the events of the climax is literally a 10 second scene that breezes by with no intent of being "open for interpretation" or giving a sense of ending). They'll do that with the ending scene but then show about 10 minutes of some Chinese girl singing a song on stage. Wow. Really? Loads and loads of problems with this movie. Do not watch it. On all levels it sucked.
½
excellent visuals, exciting fight scenes, and a decent story push this film into a place of strong likability. really a kung fu superhero film. the script got lazy at multiple points weakening the film quite a bit, but i really enjoyed it.
Legend of the Fist: The Return of Chen Zhen Quotes
There are no approved quotes yet for this movie.