Leaving Las Vegas
(1995)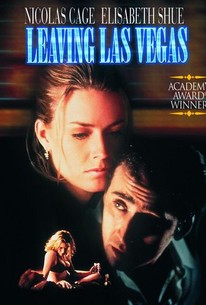 TOMATOMETER
AUDIENCE SCORE
Critic Consensus: Oscar-awarded Nicolas Cage finds humanity in his character as it bleeds away in this no frills, exhilaratingly dark portrait of destruction.
Movie Info
Mike Figgis' grim drama documents a romantic triangle of sorts involving prostitute Sera (Elisabeth Shue), failed Hollywood screenwriter Ben (Oscar-winner Nicolas Cage), and the constant flow of booze which he loves more dearly than life itself. Arriving in Las Vegas with the intention of drinking himself to death, Ben meets Sera, and they gradually begin falling for one another. From the outset, however, Ben warns Sera that no matter what, she can never ask him to quit drinking, a condition to which she grudgingly agrees. A darkly comic tragedy, Leaving Las Vegas charts the brief romantic convergence of two desperately needy people who together find a brief flicker of happiness.
News & Interviews for Leaving Las Vegas
Critic Reviews for Leaving Las Vegas
Audience Reviews for Leaving Las Vegas
An awfully bleak and depressing drama that doesn't offer us any door or way in to connect with a deplorable alcoholic who only wants to die and a pitiable prostitute in need of his love - and her interview scenes are just intrusive, unnecessary and heavy-handed like most of the script.
Carlos Magalhães
Super Reviewer
Terrific acting but grim, grim, grim.
Don't get me wrong, this film is thoroughly downbeat, however I feel alcoholism is still somewhat sugar coated. The likelihood of Ben Sanderson (Nicolas Cage) finding a woman as attractive and utterly devoted as Sera (Elizabeth Shue) is slim. It's possible of course, their bond is understandable; they're both people in grave need of care, one being a severe addict and the other being a victim on the fringe of society. Also, the crucial element that makes the relationship and indeed the film work is its platonic aberrance. Nevertheless, I thought that 'Leaving Las Vegas' is a somewhat idealised account of dire alcoholism. This really struck me in an erotically charged scene in which the pair kiss and caress each other with the help of a large bottle of liquor - it's an image that would exist merely in the dreams of most addicts. However, the engaging central romance certainly beats 2 hours of a more ordinary dive into alcoholism, which would be a film of roughly two sets: a pub and a bedroom stained with urine, excrement, blood and vomit. A film of this nature depends on a good central performance, and it gets one. Cage is depressingly real and effective as Ben. I am a fan of many of Cage's unhinged roles, however 'Leaving Las Vegas' is one the films that proves that when he moderates his idiosyncratic lunacy, he can produce genuinely good, measured performances. The film is scored with smooth, melancholic Jazz tracks and the narrative is constructed by a tautly composed prologue which gives a brief insight into Ben's life before he left for Las Vegas. This includes a brilliant scene of Ben ridding himself of his personal and professional existence to the sound of Michael McDonald's energetic 'Lonely Teardrops'. It's a scene of mixed emotions, although he is condemning himself, it is also an act of liberation. Not much detail is given about his life in the prologue, however it is clear that he was a popular and successful family man. When he is fired, his boss says with a touching sincerity 'we enjoyed having you around here, but you know how it is', giving him a cheque which Ben describes as 'too generous'. This depth given to Cage's character makes his decline all the more tragic. 'Leaving Las Vegas' is dark, seedy and tragic. Recommended.
Jack Hawkins
Super Reviewer
Leaving Las Vegas Quotes
There are no approved quotes yet for this movie.