Leatherheads
(2008)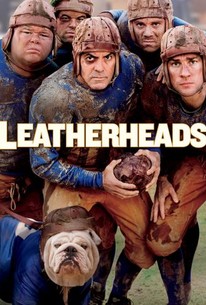 Movie Info
Dodge Connolly, a charming, brash football hero, is determined to guide his team from bar brawls to packed stadiums. But after the players lose their sponsor and the entire league faces certain collapse, Dodge convinces a college football star to join his ragtag ranks. The captain hopes his latest move will help the struggling sport finally capture the country's attention. Welcome to the team Carter Rutherford, America's favorite son. A golden-boy war hero who single-handedly forced multiple German soldiers to surrender in WWI, Carter has dashing good looks and unparalleled speed on the field. This new champ is almost too good to be true, and Lexie Littleton aims to prove that's the case. A cub journalist playing in the big leagues, Lexie is a spitfire newswoman who suspects there are holes in Carter's war story. But while she digs, the two teammates start to become serious off-field rivals for her fickle affections. As the new game of pro-football becomes less like the freewheeling sport he knew and loved, Dodge must both fight to keep his guys together and to get the girl of his dreams. Finding that love and football have a surprisingly similar playbook, however, he has one maneuver he will save just for the fourth quarter.
News & Interviews for Leatherheads
Critic Reviews for Leatherheads
Audience Reviews for Leatherheads
What starts out as a sports comedy about the early days of the formation of a professional football league in the US soon turns into a romance slash screwball comedy, mostly thanks to Zellweger's usual "woman ahead of her times" character. While she is trying to uncover the truth about a young player's war hero story, her and Clooney are getting closer. That's sometimes witty, sometimes silly and most of the times a bit too stereotype-laden. The sports aspect gets mostly neglected in the middle section, except for the constant back and forth about the war hero story. In the end we do get a game of underdogs vs. favorites, with the expected outcome, but as someone who considers American football to be the most boring sports on the planet, it's hard to get excited about it.
½
I was pleasantly surprised by Leatherheads. Directed by George Clooney, this is a well made romantic comedy that I found enjoyable and fun. With some surprisingly good performances, Leatherheads is a different, refreshing romantic comedy. Renee Zellweger is pretty good considering I've never really found her that good to begin with. This is a fine film with a good script, and effective directing from Clooney who also stars in this film. What kept me involved with the film were the well written story, and the cast. Every person here delivered something special to the screen. This is not a film that is for everyone, but if you're interested in watching a different type of romantic comedy, then give this one a shot. The blend of sports film with the romantic comedy elements work well because of a smart script, a great cast and good directing. George Clooney clearly has talent, and he makes this a charming film to watch. I found this film to be a bit underrated, and I don't understand why it has received so much flack. This is much better than the usual Adam Sandler, Jenifer Aniston rom-com. I don't get why the negative reviews. The main actors give great performances and really bring out the best out of the film. This is a different take on the genre, and I very much loved it. Funny, silly and fun, this is a film worth watching. Leatherheads is an underrated film, one that should get more praise as a well written, well acted and actually very smart film in a genre where the films usually fall flat due to its predictability, poor plot and poor cast. This film has none of those, and really should be seen.
Three stars might be a little high, but I had heard such bad things about this movie that to end up liking it bumps up its rating. It's another old-timey Clooney joint, which he is perfect for, and Renee Zellweger, whose look is really not for me, plays well as a determined journalist in an age of blatant sexism. Lots of honest laughs and love, but there's a chase scene in the middle that's so campy you might want to turn it off. It's an immature work by an emerging director, but Clooney's going to keep getting better - Good Night and Good Luck showed a ton of promise. As for Leatherheads, though... it's a silly, disposable film, but fun nonetheless; I mean, how many other movies about 1920s professional football have you seen? If nothing else, it's fairly original (for Hollywood), and Rick Reilly's work on the script appears to have helped a lot.
Daniel Perry
Super Reviewer
Leatherheads Quotes
There are no approved quotes yet for this movie.