Le Casanova de Fellini
(1976)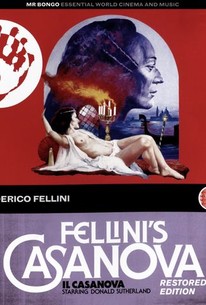 Le Casanova de Fellini Photos
Movie Info
L'histoire du célèbre séducteur vénitien. Donald Sutherland, Tina Aumont, Cicely Browne, Carmen Scarpitta, Clara Algranti, Margaret Clementi, Olimpia Carlisi. Un film de Federico Fellini.
Critic Reviews for Le Casanova de Fellini
Audience Reviews for Le Casanova de Fellini
Never had a Fellini film looked so incredibly stunning as this gorgeous period drama/character study that, even though a bit overlong, has the kind of episodic structure typical of Fellini but all the more suitable here for a story about a pitiful man who goes from one bed adventure to the next in his sterile life.
Carlos Magalhães
Super Reviewer
½
What happens when you put "La Dolce Vita," "Satyricon," and "Giulietta degli Spiriti" into a blender and mold the remnants around the pseudobiopic of an 18th century libertine? You get "Fellini's Casanova," that's what! Although many consider "Amarcord" to be Fellini's last great film, he knocks it out of the ballpark with the phantasmal, anachronistic, decadent, Jungian, social commentary/character study "Casanova." The film is an intoxicating Frankenstein of "Satyricon"s lush, colorful, malodorous, visual richness juxtaposed in a decaying culture, "La Dolce Vita"s portrayal of a man unable to love and whose quixotic dreams of artistic respect is only undermined by his myopic debauchery, and "Giulietta degli Spiriti"s glorious overabundance of Jungian associations which blur the lines between fantasy and reality. You can even throw in some "8 1/2" in there; the bottom line is that Fellini has presented us yet another masterpiece overflowing with his style and trademarks. Granted, I'll admit that this film obviously does not reach the lofty heights of any of the aforementioned films it borrows so heavily from (which is still all from the mind and experiences of Fellini,) perhaps with the exception of "Satyricon." And, in hindsight, it becomes potent that this picture is reserved only for the fans. However, if you happen to love Fellini you'll have a great time watching this magnificent film where he is at his most indulgent, unrestrained, and freelance. I also, personally, consider this to be his most surreal film, considering how he somehow managed to convincingly turn Donald Sutherland, Conrad Jarrett's tenderly loving father, into an androgynous womanizing sexual deviant.
Edward Stymest
Super Reviewer
Federico Fellini's renowned directing touch seemed shakier after "Casanova," an overlong, erratic portrait of the legendary lover. Donald Sutherland is the unlikely star, and the problems start there. Not only is his familiar growl overdubbed with a harsh Italian voice (disorienting, to say the least), but his androgynous persona is near laughable. With his powdered complexion, lined eyes and shaved hairline, he looks less like a womanizer than a cold-creamed housewife on her way to bed. Meanwhile, his vivid, frilly outfits are often ridiculous, and the wispy half-shirt and bloomers he wears underneath -- while probably period-accurate? -- are downright girlish. It's a creepy characterization. Then again, the film won the Oscar for Best Costume Design, so others obviously appreciated these excesses. Like many Fellini movies, "Casanova" is a series of intricate set pieces rather than a linear story, but the action seems more repetitive this time. Seduction scenes dominate, naturally, but the couplings are shot in such a crass, exaggerated way -- from the woman's perspective, as Casanova slams into her from above as if pedaling on an exercise bike -- that the sex is totally unappealing. Perhaps this is the point. We aren't meant to admire this shallow rogue who boasts about his virility, pathetically grovels for acceptance as a scholar and swoons lovestruck hyperboles whenever he happens to meet a beautiful woman. Otherwise, the inevitable highlights are the festival settings, where Fellini's visual imagination runs amok with his usual, bacchanalian genius. An early scene with a giant, carved head emerging from a canal is dazzling. A chaotic orgy that suggests an earthquake is delightful insanity, as is a musical segment where multiple keyboards haphazardly feed a single organ's cacophony. There's also a homoerotic operetta (an interesting test for composer Nino Rota), a walk-in whale carcass marketed like a circus sideshow and a seven-foot woman who wrestles doomed male challengers (as if that weren't enough, her handlers are midgets). Casanova also woos a humpbacked woman and a delicate, life-sized robot. On a more subtle level, his eventual decline is exquisitely symbolized by the aftermath of an opera, where the emptied house leaves him alone on the bare floor as the chandeliers are lowered and systematically fanned out by the crew. Another clever metaphor is the toy bird that repeatedly stretches and chirps during his bedroom romps. "Casanova" is a strange mix of realism and theater, as elaborate sets clash with obviously faked buggy rides and a sequence where a stormy ocean is simulated with rippling plastic tarps. The chronology sloppily jumps around -- the story is initially told via flashbacks as a jailed Casanova contemplates his life, but this structure is soon abandoned -- and women who enter the plot as pivotal characters are discarded minutes later without ceremony. Nothing hangs together as smoothly as it should. Casanova turns a bit more sympathetic near the end as he ages and is humbled to become a modest estate librarian, but the film's imagery remains far more affecting than its human insights.
Eric Broome
Super Reviewer
Le Casanova de Fellini Quotes
There are no approved quotes yet for this movie.