The Lazarus Project
(2008)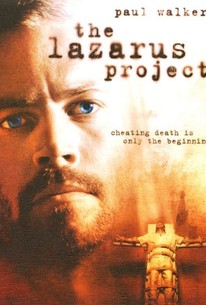 The Lazarus Project Photos
Movie Info
Life, it seems, could not possibly improve for Ben Garvey (Paul Walker). Though officially an ex-criminal (a reformed thief), he's worked extra-diligently to bury the past and start over - via a promising job, a gorgeous wife (Piper Perabo) and a lovely daughter. Tragically, though, the past comes back to haunt Ben when others learn of his history and rip his job away; he travels from bad to worse by making the ill-advised decision to join his shyster brother in a "get rich quick" burglary scheme that goes tragically awry, leads to several deaths, and lands Ben on death row, poised for lethal injection. At the last waning moment, however, Ben comes to and mysteriously seems to have survived the needle. On a bizarre note, he finds himself in a rural psychiatric hospital where nothing is what it seems - plagued by demonic images and trailed by a mysterious figure (Lambert Wilson). One of the only sources of hope lies in the gorgeous psychiatrist (Linda Cardellini) who provides Ben with support, counsel and encouragement as he lingers in this odd, inexplicable realm.
Critic Reviews for The Lazarus Project
Audience Reviews for The Lazarus Project
½
If you saw Shutter Island then, in essence, you've seen this as well : hero investigates the staff at a remote psych facility for some unnamed malfeasance. Walker holds this one down okay ... it's only too bad he didn't get much more to work with.
Kevin M. Williams
Super Reviewer
Ok, well, I thought that this was a decent movie. Paul Walker did a great job, as did the entire cast. Some people compare this to Shutter Island. Ok, I admit it was a similar premise, but I didn't like Shutter Island...and I did like this. I DO, however, wish that they had ended this movie differently. I was left with a little of that "now what" feeling. But, I didn't dislike the ending enough to take away from my rating. This was more of a drama, than a thriller, though.
Cynthia S.
Super Reviewer
Paul Walker plays a character sentenced to death - but wakes up after his lethal injections to a new world, or is it? This was supposed to be a psychological thriller in which I thought did its part throughout the majority of the movie. Within the last half hour it starts to unravel to the point in which it's not technically a psychological thriller in my opinion at all but a dramatic film based on the morals of humanity; the choices and mistakes we all make as humans; and the response to correcting those who make those mistakes. The correctional system is an interesting concept to me (maybe because I am a student in Criminal Justice) but noting the fact that our system jails individuals by the masses (7-8x the population of other countries) and our crime rates while they've decreased since mass incarceration has started still doesn't reflect the lesser crime rates of countries who jail at slower rates - brings about questions of rehabilitation, our over population of prison inmates, and the inhumane responses we take to try to curb society for our own gratitude. The American prison system (despite the 12million individuals that circulate through it each year) is one of the best kept secrets in the country hiding the conditions and inhumanity that goes on inside them from assaults, humiliation, rape, and the subject to deadly diseases that our Government fails to treat prior or take notice in before releasing them back into society on us. While this all fact, and this movie itself as a response was fiction, the movie in my opinion was less about the story inside the movie and more about the future of our prison system that we all can either continue to ignore ("Kill you? But to the rest of the world, you're already dead") or humanity can wake up and understand even those on the inside deserve forgiveness and some sort of dignity. I was an obvious fan of the thoughts it left you with, the awareness of what could happen without us ever even considering or knowing (and what does happen not in this movie but other issues), and the greater morals behind the film. The film itself was great and dark throughout it but the ending was slightly bland, a bit predictable, with questions on how that'd even be a possible scenario after what was supposed to have happened previously in the prison. (Will not say that as to not spoil the movie on here - but anyone else who has seen the movie should pick up on what I mean) Pretty good film, but best for that in which it brought to mind and awareness off film.
Bobby Hobbs
Super Reviewer
The Lazarus Project Quotes
There are no approved quotes yet for this movie.