Lawless
(2012)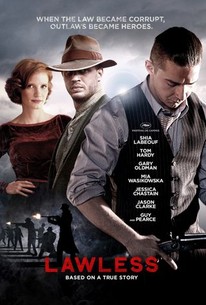 TOMATOMETER
AUDIENCE SCORE
Critic Consensus: Grim, bloody, and utterly flawed, Lawless doesn't quite achieve the epic status it strains for, but it's too beautifully filmed and powerfully acted to dismiss.
Movie Info
Lawless is the true story of the infamous Bondurant Brothers: bootlegging siblings who made a run for the American Dream in Prohibition-era Virginia. In this epic gangster tale, inspired by true-life tales of author Matt Bondurant's family in his novel "The Wettest County in the World", the loyalty of three brothers is put to the test against the backdrop of the nation's most notorious crime wave. -- (C) Weinstein
News & Interviews for Lawless
Critic Reviews for Lawless
Audience Reviews for Lawless
A film about redneck moonshine bootleggers, well yeehaw! Apparently this is an adaptation of a book which recounts true events from 1931 in the USA. The story is actually based on the author's real family from around this era, he seems to be proud of his relations criminal activities then. Well its based on fact so it makes the film more interesting. Visually this film looks the business, its gritty, violent and thoroughly well made from top to bottom. I love how everybody looks in their costumes, this period in US history was a smart time and on film it always looks good. The main issue with this film is thus, clearly its aiming for epic Oscar status, that's fine but its not good enough. The reason being, in my opinion, the creators can't decide what they want this film to be. Do they want an epic grand scale tour de force a' la 'The Godfather' or do they want a graphic novel style kick ass flick a' la 'Last Man Standing' or 'The Untouchables'? The film starts brilliantly, with a good dust up from Hardy showing his position within the film and then the coup de grace. Oldman strolls out into the middle of a dusty dirt street and proceeds to tommy gun an oncoming old Ford jalopy to pieces. This one sequence is over quickly but its overly awesome and really gets you in the mood for an ass kicking period flick. After this great kick off the film tends to lull for much of the run time with sparse bits of violence. The whole thing is lost in limbo between wanting epic Oscar status or violent kick ass graphic novel type status. The issue being the film achieves neither but hangs somewhere in between like a lost tourist. The other shame is the fact the two best characters and actors aren't involved enough. Oldman is hyper as usual and just needs more screen time here, its as simple as that (although his character does remind me of Chris Walken's character of 'Hickey' in 'Last Man Standing') . Whilst the best character by far is Pearce as the slimy nasty dastardly Rakes. A kind of polar opposite to Elliot Ness, Ness was a crusading good cop while 'Rakes' is a crusading bad cop. He's only doing his job and upholding the law but in a really bent way. Both these guys NEEDED more screen time as they both rocked ass and looked damn good doing it. Alas we're stuck with lots of the dreadful Labeouf (how does this guy get work?!) and the very much overrated Hardy who yet again mumbles his way through this film also. This guy really isn't much of an actor, sorry to all you Nolan fanboys out there, tis the reality. Despite the two guys I've mentioned most of the characters aren't exactly original, there is nothing new on offer here from this era, standard fair. The violence is harsh thundering and cool but admittedly cliched for this type of film, the thing is that's the best thing about the film. Without much of the violence this would be a poor epic wannabe, with the violence its good fun but not as good as 'Last Man Standing' or 'Untouchables'. To be frank the plot is highly basic and doesn't really deserve a film made about it. That said I can't deny that it looks lush and the brutal glorification of prohibition-era Virginia violence is too good to miss. Hands up who wants to see Oldman smash some hood across the head with a big metal shovel in a fit of rage? Yeah that's what I thought, of course you do.
Phil Hubbs
Super Reviewer
Not a terrible visit to the backcountry hills of ol'Virginny (as English and Australian actors continue to overrun Yank filmography) where some moonshiners run afoul of duh law (vilely personified herein by Guy Pearce, Australian, with hissy fits aplenty). Leading the good guys (that'd be the moonshiners in this biopic) is I'm-wearing-muh-hat-lo'-so-yah-cahn't-see-muh-eyes Tom Hardy (English, I believe) who is as tough as your mother-in-law drunk and passed out on the couch which she just peed on, your couch. Jason Clarke (another Aussie) is the muscle middle brother, and Gary Oldman (English, forcryinoutloud) is a rival in the mix as well. Are there any Yanks in this story about the real America (where everyone wears their hats down over their eyes)? They're only in supporting roles. And they get whupped. Real bad. I blame the Aussie director, duh. The movie's okay though.
Kevin M. Williams
Super Reviewer
½
Three brothers in the bootlegging business during the prohibition era refuse to bow to the will of Chicago gangsters and provoke a war between their backwoods community and big city organised crime. John Hillcoat reunites with scriptwriter Nick Cave who collaborated on the atmospheric and characterful The Proposition for this old school gangster drama which unfortunately has neither of those qualities. Despite a promising cast, Lawless is a rather unengaging affair that's a little too admiring of some pretty unpleasant violence perpetrated by a singularly unlikeable bunch of characters. Tom Hardy and Jason Clarke are little more than a pair of mumbling thugs, Guy Pearce's gun toting dandy is little more than a caricature and Shia Lebeouf once again channels his simpering frat-boy persona and fails to conjure any kind of charisma or chemistry whatsoever. The film is attractive to look at and the screen ignites during Gary Oldman's all-too brief appearances but the editing is choppy and the characterisation unappealing and unconvincing. Ultimately Lawless has none of the weight or moral message of a serious drama, nor the excitement or sense of fun of an action film making for an uninvolving tale of a trio of "heroes" it's very difficult to care about.
Lawless Quotes
There are no approved quotes yet for this movie.