L'Avventura
(1960)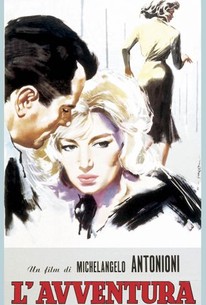 Movie Info
This exceptional Italian mystery offers potent comments upon life in the bourgeoisie class and upon the isolation sometimes suffered by people in love. The tale begins when a girl suddenly vanishes during a yachting trip. Her lover and her best friend begin searching for her. During their quest, the two become lovers.
News & Interviews for L'Avventura
Critic Reviews for L'Avventura
Audience Reviews for L'Avventura
½
I really admire what Antonioni is trying to do here, even though it seems like he doesn't always go for the right choices, making the romance feel a bit too cold and the dialogue mostly repetitious; still, this classic film has so many scenes that were simply born iconic.
Carlos Magalhães
Super Reviewer
Many films are called "classic." Very few advance and redefine the language of cinema. L'Avventura is such a film. What it showed was that films do not have to be structured around major events, that very little drama can happen and a film can still be fascinating to its audience. It also showed -- and this was harder for audiences to grasp (and still is) -- that events in films do not have to be, in an obvious way, meaningful. L'Avventura presents its characters behaving according to motivations unclear to themselves as much as to the audience; they are sensitive to mood, to landscape, to things that happen, but they also behave in routine and conformist ways. None of them, except Claudia (who had, in her words, "a sensible childhood, without any money"), seems to have much consciousness of the lack of direction that afflicts them. They are, to use a word very fashionable at the time the film came out, alienated. But to say, as many critics did, that the film is "about" alienation is to miss the point. The film shows, it doesn't argue. It convinces by the sensitivity and accuracy of its observation, not by heavy signals to the audience to think this, that, or the other. More than any other film L'Avventura seems to define the spirit of a time in cinema when anything seemed possible and there was no territory into which it could not venture. (The more I think about it, post-war Italian cinema may be my favorite "genre." It didn't succumb to any filmic conventions, and approached weighty subject matter with grace and elegance.) Above all what it seeks to capture is the world of fleeting emotion, feelings which are unstable and crystallize only momentarily in the camera's gaze. After L'Avventura, Antonioni did not look back. He made three further films with Monica Vitti --The Night (1961), Eclipse (1962), and Red Desert (1964) -- each time pushing further back the frontiers of what cinema could explore. It's hard to say which of these films is the best, but L'Avventura is the one that started Antonioni on his quest, and remains the one that most clearly represents the unique nature of his art.
Jonathan Hutchings
Super Reviewer
I saw this movie for a class, but I'd like to see it again, I don't remember it well.
L'Avventura Quotes
There are no approved quotes yet for this movie.