The Laughing Policeman
(1973)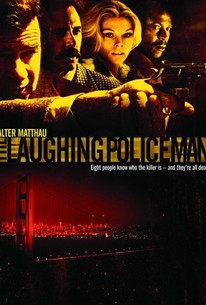 The Laughing Policeman Photos
Movie Info
Cops Walter Matthau and Bruce Dern stalk a serial killer with a lust for bus riders in this thriller also called An Investigation of Murder.
Critic Reviews for The Laughing Policeman
Audience Reviews for The Laughing Policeman
Stuart Rosenberg's solid, tense crime drama based on a Swedish award winning novel by Per Wahloo and Maj Sjowall, the story is transplanted from Stockholm to San Francisco. The late great Walter Matthau delivers one of his most accomplished, detailed performances, as a tough police lieutenant investigating a grisly massacre on board a city bus by a madman, who opened up with a machine gun and murdered eight people. He discovers that his former partner, a detective is one of the victims, Matthau uncovers unsavory things about his ex-partner, and that many of the victims had shady lives, which shrouds the killer's identity even more. But Matthau and his current partner, played superbly by Bruce Dern, are running out of time because the killer is getting ready to attack another city bus. Astute direction by Stuart Rosenberg, fine supporting performances by Louis Gossett Jr, Albert Paulsen, Anthony Zerbe, Anthony Costello, Val Avery, Joanna Cassidy, and Cathy Lee Crosby. Good suspense and plot twists, outstanding cinematography by David M. Walsh. A gritty period piece, and accurate 70's police procedural from the golden age of urban American films. Highly Recommended.
Danny Rovira
Super Reviewer
Whatever you're reaching for had better be a sandwich, 'cause you're gonna have to eat it.
Matthau doesn't get to play many serious roles compared to his body of work in lighter fare. This is one of his best dramatic attempts. Despite the title, not only does he not laugh in this, he never even cracks a single smile.
This is a nice murder mystery. The whole supporting cast is excellent, particulary Lou Gossett, Jr. When he delivers the line quoted above, you can feel in your bones that he means it :)
Lanning : )
Super Reviewer
The Laughing Policeman Quotes
There are no approved quotes yet for this movie.