Latter Days
(2004)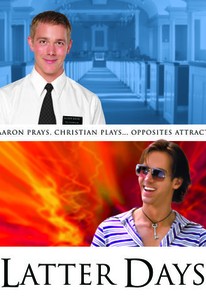 Movie Info
Christian is the typical LA gay boy: hot tanned body, gorgeous looks, and a taste for the one-night stand. By day, he waits tables at the quaint Lila's where his sexual conquests are frequently discussed with his co-workers. One day, new tenants move into Christian's apartment complex-four young Mormon missionaries, including the sweet and innocent Elder Aaron. As sexual tension builds between Christian and Aaron, the Lila's staff wages a bet that Christian cannot bed his missionary man. The bet is on, but there is a problem-Christian is falling in love with his latter-day saint. To make matters worse, the Mormon condemnation of homosexuality sends our lovelorn heroes into trials of regret, loss, perseverance, and forgiveness.
Critic Reviews for Latter Days
Audience Reviews for Latter Days
I like it overall, but a lot of cheesy stereotypes. Acting is mediocre at best. Reminder how the less open-minded think. The higher rating comes simply from a couple scenes that still makes my heart melt and beat faster.
Thomas Johnston
Super Reviewer
½
It's just a lukewarm film, a by-the-numbers romantic drama about people from utterly different worlds that happen to fall in love. I give props for the included "twist" and depictions of "homosexual reformation" facilities that we all KNOW exist and are utilized by the Mormon church. Some very nice bits of secondary character acting by Erik Palladino as the AIDS patient and Joseph Gordon Levitt as an overly everything-that-isn't-Mormon-phobic missionary. "Hot Gay Sex" commentary: this reluctantly makes the list. makes the list because there is certainly gay sex happening here. Reluctant because, as my gay boyfriend said, "we don't know who topped/bottomed". Plenty of shapely buttocks, though.
_kelly .King
Super Reviewer
½
My sister bought this on DVD so I decided to watch it with her without knowing much about it besides it's gay subject matter. I'm glad I did because it turned out to be a poignant, insightful, and very original film with a wealth of strong performances and a tight script.
Latter Days Quotes
There are no approved quotes yet for this movie.