Late Spring
(1949)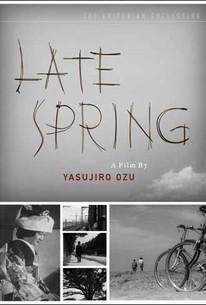 Movie Info
Veteran Japanese writer/director Yasujiro Ozu's second postwar production was 1949's Late Spring or Banshun. Chisu Ryu plays another of Ozu's realistic middle-class types, this time a widower with a marriageable daughter. Not wishing to see the girl resign herself to spinsterhood, Ryu pretends that he himself is about to be married. The game plan is to convince the daughter that they'll be no room for her at home, thus forcing her to seek comfort and joy elsewhere. What makes this homey little domestic episode work is the rapport between Chisu Ryu and Setsuko Hara, who plays the daughter. Late Spring is no facile Hollywood farce; we like these people, believe in them, and wish them the best.
News & Interviews for Late Spring
Critic Reviews for Late Spring
Audience Reviews for Late Spring
Another fantastic example of Ozu's work. As usual, very restrianed and very simple. Ozu examines family relationships and the social beliefs of Japan at the time. The struggles of women and the worries of fathers are all played out. Late Spring focuses on Ryu once again playing a single father, and his daughter Noriko. Many of Ozu's films deal with the effects of a marriage on a family. Here, Noriko does not want to get married. She is content with her life with her father. She enjoys looking after her father and worries about he will be able to cope without her. As it progresses Ryu must make the choice of letting his daughter go. Even if he must trick her to set her free. The great thing about Ozu is that he doesn't tell us what to think, a story is laid out in front of us with each characters emotions open to interpretation. A very moving ending, but one that doesn't try and make us cry. Slow and boring to some, Ozu is a director who has no need to try and impress his audience. Ironically, this is the most impressive thing about him.
Luke Baldock
Super Reviewer
although ozu typically starts slow, this film begins slower than most of his. however, by the time it picks up, it becomes one of ozu's most emotionally powerful films. in particular japanese fashion noriko's father doesnt display any emotion until completely alone, and then it hits hard, but hara gave a phenomenal and emotionally charged performance. i never get tired of seeing ryu or hara in an ozu film, and ozu's camera shots are typically strong in this film. the bike riding scene, the scene on the road after the play, and the discussion towards the end just before the wedding are all phenomenal, and as is usual for ozu, we get a wonderful portrait of japanese culture and family life.
½
What I liked about this movie, is the gradual attachment that grows between you and the characters. I've got this with all the Ozu's I've seen so far: in the beginning it's very neutral, but when he gets to the core of the relationships, I find it deeply moving. This movie explores the bond between a father and his daughter. It's about making sacrifices, or being prepared to make sacrifices for each other. Not something you see very often anymore in today's society,
Late Spring Quotes
There are no approved quotes yet for this movie.