Late Bloomers
(2012)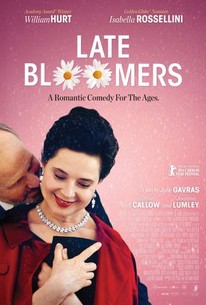 Movie Info
In a romantic comedy, a man and a woman love each other but everything conspires to drive them apart. Despite their true feelings, they separate now so they can be together later. The man and woman are Adam and Mary. But Mary and Adam aren"t your typical 20 or 30-year-old couple; they"re nearing 60. Like many 60-year-old couples of the 21st century, they"re high functioning. And what"s more, they do it with style. They deftly juggle children, grandchildren, work and friends, with all the joys and disappointments that come with married life. Until one day they realize, to their great surprise, they've entered the senior category. And they react to this realization in totally opposite ways. A clash soon becomes inevitable and a separation ineluctable. -- (C) Official Site
News & Interviews for Late Bloomers
Critic Reviews for Late Bloomers
Audience Reviews for Late Bloomers
½
"Late Bloomers" has a good cast, namely William Hurt and Isabella Rossellini as a married couple growing nearer to 60 while facing challenges in life, namely his struggling architecture practice and her wanting to volunteer at pretty much anything.(That's not to mention very fine support from Simon Callow and Joanna Lumley.) But the movie is so scattershot that it lacks much in the way of a consistent story, or really any kind of meaningful insights.
Late Bloomers Quotes
There are no approved quotes yet for this movie.