The Last Unicorn
(1982)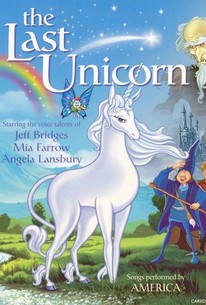 Movie Info
A brave unicorn and a magician fight an evil king who is obsessed with attempting to capture the world's unicorns.
Critic Reviews for The Last Unicorn
Audience Reviews for The Last Unicorn
The rare case of an animated childhood classic that looks and feels dated now but still oozes of the feeling you had when you watched it for the first time. Especially America's original songs give the story of the last unicorn facing its biggest threat a very unique atmosphere, giving it all a sweet melancholy that works fantastic together with the nicely animated magic forests and landscapes. Some other scenes are downright spooky for kids, but of course there is humor too. The story starts out strong and atmospheric and then loses a bit of its drive once the characters reach their destination. After that rather slow part, the exciting ending does a lot of things right again and makes it an overall very pleasing and sweet experience, even after all these years.
The Last Unicorn is possibly the best of the Rankin/Bass animated features. It holds up surprisingly well and carries more warmth and weight than most of its counterparts. The superb voice cast is only the tip of the iceberg. There's a great little story here based on a great little book. The film itself was slightly censored for home video releases, but thankfully the new Blu-ray release amends that with two different viewing options. It's a nice little fairy tale that manages to surpass its own source material to become a classic.
Tim Salmons
Super Reviewer
An impressive voice cast with a touching story, although a bit dated now visually. Will mainly appeal to a very young audience.
The Last Unicorn Quotes
There are no approved quotes yet for this movie.