The Last Tycoon
(1976)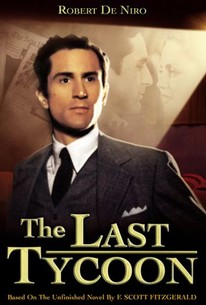 Movie Info
Based on an unfinished novel by F. Scott Fitzgerald adapted by the notable playwright Harold Pinter and brought to the screen by Elia Kazan, this movie explores the life and machinations of the troubled movie producer Monroe Stahr (Robert DeNiro). The real-life inspiration for the leading character was Irving Thalberg, a producer at MGM. The focus of this leisurely-paced movie is on the characters of these show-business people. This star-studded film was expected to be a more conventional drama, and was not well-received by the film-going public.
Critic Reviews for The Last Tycoon
Audience Reviews for The Last Tycoon
While it's not Elia Kazan's usual style, it's a very interesting story with a lot to offer. You can instantaneously feel that it's incomplete and fragmented, but it works with Robert De Niro's performance as Stahr. This has great performances from everyone and it's got a nice critique about Hollywood and movie making, but it never really answers any of the questions it asks. This is about as much as you can expect though, considering the circumstances, and nothing to be ashamed of.
Conner Rainwater
Super Reviewer
½
I've read a lot of reviews that complain about this film's "glacial pace", but if I may be so bold, I think a lot of people are misplacing their criticism. If anything, the film moves forward a little too quickly and sheds some crucial character insight in the process. However, I was pleased with the movie's tonal approach of distance, and the atmosphere of quiet sadness it established. This is a withdrawn piece that speaks very little at times and expects a lot from the audience. The direction, writing and performances all serve towards its languid essence and the result is a respectably executed movie that falls short of the greatness it could have achieved. Robert De Niro's lead performance is exciting to watch - a sketch of a character with a lot of texture that we never quite get a grasp of. His brief moments with Jack Nicholson make this film worth a watch alone. Watching those two screen legends feed off each other made me a happy viewer. This isn't a film I would recommend to many people, but I enjoyed it extensively and I presume it's something I'll revisit at least once.
With a cast like this there is no way this should be the snoozefest it is. Moves at a glacial place to no real resolution.
The Last Tycoon Quotes
There are no approved quotes yet for this movie.