The Last Station
(2010)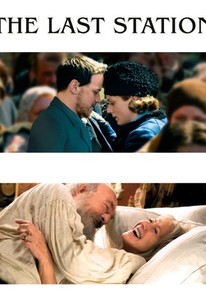 TOMATOMETER
AUDIENCE SCORE
Critic Consensus: Michael Hoffman's script doesn't quite live up to its famous subject, but this Tolstoy biopic benefits from a spellbinding tour de force performance by Helen Mirren.
Movie Info
Set in the last tumultuous years of famed Russian author Leo Tolstoy's life, centers on the battle for his soul waged by his wife Sofya Andreyevna and his leading disciple Vladimir Cherkov. Torn between his professed doctrine of poverty and chastity and the reality of his enormous wealth, his thirteen children and a life of hedonism, Tolstoy makes a dramatic flight from his home. Too ill to continue beyond the tiny rail station at Astapovo, he believes that he is dying alone, while over one hundred newspapermen camp outside awaiting hourly reports on his condition.
News & Interviews for The Last Station
Critic Reviews for The Last Station
Audience Reviews for The Last Station
I was really impressed by this film....not only by the way this story from history was told, but by the actors as well. Christopher Plummer was absolutely wonderful in the role of Tolstoy. Helen Mirren is a fantastic actress, and is terrific as Tolstoy's wife of many years.. James McAvoy was great as Tolstoy's assistant. All in all a really well done film, with a wonderful lesson in Russian history.
Cynthia S.
Super Reviewer
Any chance to see Helen Mirren work is worth the price of admission. "The Last Station" is a tour de force for Miren in full bloom - a force of nature that can't be denied, elevating what would have been a rather pedestrian and unsatisfactory period piece to moments of brilliance. It's not that her co-stars Christopher Plummer (as Tolstoy), and Paul Giamatti (as the leader behind the "Tolstoy movement") don't hold their own, and really, the acting in this film is more than passable, but make no mistake, this is Mirren's film. Mirren plays the countess, married for over 40 years to "the great man" Tolstoy, a national icon, who in his senior years begins ruminating on the class system and entitlement of the rich. With guidance from Giamatti he begins a movement that rejects religion as well as the accumulation of wealth - to the point where he wants to change his will, thereby giving the complete rights of his "intellectual property" - in other words royalties from his novels - to "the people", something that goes against the grain with the countess, who not only wants to look after the well being of their children and grand children, but is irked by not being recognized for helping Tolstoy write the books to begin with. So there you have the gist of the story. Giamatti is the snake, trying to convince Tolstoy to "do the right thing" and donate his works to the people (and thus further solidifying his own position as the head of Tolstoyism - an odd and evolving manifesto that no-one really seems to have a firm grasp of). He is of course at loggerheads with Mirren, who is alternately compliant to her husband, but demanding of his attention. She rants, raves, cajoles, entreats, flirts - whatever is necessary to get Tolstoy's attention and feel his love. You could have a tight little story here, but the film shoots at something larger, including the story of a young "secretary", brought in by Giamatti to spy on the countess, while aiding Tolstoy in getting his affairs in order. The young man lives in a commune set up on the far reaches of Tolstoy's estate, and there he falls for the commune school teacher. I suppose that this affair is supposed to contrast the "old love" that Tolstoy and the Countess have for one another with the new, fresh love of the secretary and teacher - but, like so much in the film, seems empty and gratuitous. At the core, the film's real failure comes at the beginning and the end. On the front end you have a quote from Tolstoy that everything he has written comes from his knowledge of love. Nice quote, but really, it's just a sound byte and you can believe it if you care to... but what comes next is really galling - the film proclaims, in large lettering, that Tolstoy was the greatest novelist ever. Ok, by whose standards, and really, how can you quantify "greatness" in an art form? That bit alone took me a lot to get past - and Mirren does a great job of making me forget it, until the ending hits you like a melodramatic ton of bricks. Again, Mirren does a great job with what she's given here, but the tag with the reuniting of the secretary and the school teacher seemed so.... tidy (and unnecessary). Another little scab I'd like to pick at - why is it that virtually every period piece requires a shot of a steam train bustling through an idyllic countryside? I swear I've seen virtually the same shot in at least ten films (and I'm not talking about the necessary train ride that gives the film its title here - the "money" shot comes early in the film). In actuality, this film comes off more as a theatrical play - and perhaps would be better suited to the boards, where it becomes all about performance (something this has in spades), rather than content.
paul sandberg
Super Reviewer
Intoxicating. Infuriating. Impossible. Love. This movie is good and has some important significance on the life of Leo Tolstoy. Helen Mirren, Christopher Plummer and James McAvoy all gave truly really good performances. I don't rate it so high because it's not really my type of movie and to be sincere it bored me a little but i'm sure this is one great film which many enjoyed. In 1910, acclaimed Russian novelist Leo Tolstoy, in the later stage of his life, works rather than a writer but as the leader of the Tolstoyan Movement, whose basic tenets are brotherly love and world peace through pacifism, and a denouncement of material wealth and physical love. His chief follower is Vladimir Chertkov, who does whatever he requires to advance the cause. Chertkov hires a young man named Valentin Bulgakov to be Tolstoy's personal secretary in carrying out this work. Once ensconced in the life on the estate where much of the work is taking place, Bulgakov quickly learns that many there take from the movement only what he/she wants/believes. Also chief amongst the movement's wants is the deeding of all Tolstoy's writings to the people so that after his death it will become public domain. Tolstoy's wife, the Countess Sofya Andreevna Tolstoy, believes that her husband's writings are rightfully hers after he passes, as she wants and believes she deserves the monetary benefits derived from such. This places a strain between those in the movement, especially Chertov and the Tolstoy's daughter Sasha, and the Countess. Bulgatov acts as the mediator between the parties, he who feels he needs to do what is truly in Tolstoy's heart regardless of what Tolstoy may say or do.
The Last Station Quotes
There are no approved quotes yet for this movie.