The Last Stand
(2013)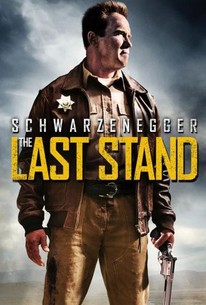 TOMATOMETER
AUDIENCE SCORE
Critic Consensus: There's nothing particularly distinguished about it, but for Schwarzenegger fans The Last Stand provides perfectly undemanding entertainment.
Movie Info
After leaving his LAPD narcotics post following a bungled operation that left him wracked with remorse and regret, Sheriff Ray Owens (Schwarzenegger) moved out of Los Angeles and settled into a life fighting what little crime takes place in sleepy border town Sommerton Junction. But that peaceful existence is shattered when Gabriel Cortez (Eduardo Noriega), the most notorious, wanted drug kingpin in the western hemisphere, makes a deadly yet spectacular escape from an FBI prisoner convoy. (c) Lionsgate
News & Interviews for The Last Stand
Critic Reviews for The Last Stand
Audience Reviews for The Last Stand
½
Well its been a while since Arnold has been in anything as a main character, Ten years now I believe (Expendables 2 was supporting character?) But the biggest question I think anyone should ask themselves, does the 65 year old former Governator still have what's in him to make an entertaining action film? Might as well start with the characters. Arnold plays Ray Owens and he does his typical badass performance, the only difference is, well, Arnold is old now, and Arnold knows this and this film does acknowledge this, but you know what? Arnold still does his fun and entertaining badass character very well. Then we have mainly the supporting characters, mainly all being the deputies, the FBI agent, and the drug cartel leader and the convict. As far as the deputies go, we have Luiz Gusman, Jaimie Alexander, Johnny Knoxville, and Rodrigo Santoro. Luiz Gusman does the usual comedic performance he does in most films, he's funny but not to the point of being insultingly annoying or stupid and does the role well. Jaimie Alexander doesn't really leave that much of an impact on me as much as all the other characters and really is kind of just there and doesn't really do that much in the film except in the shootout near the end of the film. Rodrigo Santoro is a newly deputized convict that was arrested and friends with a cop who is murdered about 30 minutes into the film, and they develop his character a little bit, but not really enough to make him a great or standout character but is passable. Now the big one, Johnny "Jackass host" Knoxville. This is the main thing that really worried me about this film, seeing how Knoxville, while funny in Jackass, is very annoying and obnoxious in almost any film he's in (not counting the Jackass movies,) but here I was shocked actually at how funny he actually was for once. They make him a trigger happy gun museum owner and Knoxville does a pretty good job at making this character memorable and one of the highlights of the whole film and I will admit I did make a couple Jackass jokes while watching his scenes. Now Forrest Whitaker plays a head FBI agent who is constantly watching the convict throughout the film and is the one who informed Arnold about the convict coming. Whitaker, is honestly not that memorable of a character, all his major purpose to me was in this film was just to say "fuck" every third sentence and just watch what is going on with the convict and the hostage agent. Now he doesn't do horrible, but it just isn't that memorable of a character, but they do give him a couple good lines. Now onto the two antagonists. There is the leader of the drug cartel played by Peter Stormare, and as far as I know, he is mainly known for villain characters, and he does a good job at playing this bastard character and he does have a lot of great moments in this movie but he doesn't really do much outside of the shootout scene near the end of the film. The last real main character is the convict named Cortes played by Eduardo Noriega, and I have to say, this is one of the smartest action villains I've seen in a long time. He takes an FBI agent hostage while he is riding in a modified car able to go up to 300 miles per hour and this guy knows how to get out of literally every situation thrown at him. Throw a police roadblock at him he knows how to get through it without getting one scratch on his car, throw a police helicopter at him, he knows how to lose it. The only problem with this character that keeps him from being a fantastic villain is that, he isn't developed hardly at all, and his personality, is very, very bland. Next the action, considering that the last real big Arnold starring action film he was in was Terminator 3 Rise of the Machines and Expendables 2 I was having high hopes to see how they could handle a modern action film with Arnold as the lead role, and personally it didn't disappoint. The best scene in the whole film, and I think everyone will agree with me who saw it, is the final shootout with Arnold and his crew against the drug cartel. The scene pulls no stops on the gore and explosions and it's nice to see "some" practical blood effects and explosions for once and not a whole lot of CG in an action film. The only reason I say some in quotes is because sometimes the blood is a practical effect and it looks good, but sometimes its the powdery mist sort of CG blood at times, and it is very strange to me why sometimes its practical and sometimes it's not. The film also has some other great action scenes such as all the scenes with Cortes in his car, and the final car chase/battle in the street and cornfields and the final hand to hand fight with Arnold and Cortes. Some of these are some of the most entertaining shootouts I've seen in a while and are all fantastic scenes and mix well with all the cheesy and fun dialogue in the film. There's also a great scene involving an old woman in the final shootout that I bet you will laugh at if you see it. Overall, while Arnold is definitely showing his age, he still knows how to make one entertaining action film and for director Kim Jee-Woon's first film I'm excited to see what else this guy could do with more action films like this. I wouldn't mind seeing him work with Sylvester Stallone or Van Damme. If you want to see just a fun stupid action movie and a great return for Arnold, I say check this out.
Michael Edwards
Super Reviewer
Familiar actors in familiar roles? You betcha. But whipsmart direction and editing keep the familiar fresh up until the last reel. Some fun.
Kevin M. Williams
Super Reviewer
MisterYoda ?
Super Reviewer
The Last Stand Quotes
There are no approved quotes yet for this movie.