Larry the Cable Guy: Health Inspector
(2006)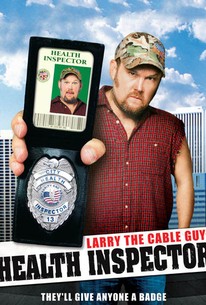 Larry the Cable Guy: Health Inspector Photos
Movie Info
A laid-back health inspector's comfortable routine receives an unwelcome shake up when he's assigned the task of training his new rookie partner and investigating the outbreak of a mysterious illness at one of the city's most posh restraints in this no-holds-barred comedy starring Blue Collar standup king Larry the Cable Guy. It's all greasy spoons and low-rent ethnic eateries in the world of seasoned big-city health inspector Larry (Larry the Cable Guy), and that's just the way he likes it. After begrudgingly accepting the task of training by-the-books trainee Amy (Iris Bahr), Larry lands the biggest case of his career when a group of high-class diners fall ill following a particularly pricey meal. Though the gruff but lovable health inspector soon loses his job as a direct result of his questionable manners, he soon wins the heart of a shy waitress while attempting to go undercover to crack the case and ensure that the conspirators who engineered the poisonous plan are brought to justice. ~ Jason Buchanan, Rovi
News & Interviews for Larry the Cable Guy: Health Inspector
Critic Reviews for Larry the Cable Guy: Health Inspector
Audience Reviews for Larry the Cable Guy: Health Inspector
Larry The Cable Guy: Health Inspector is a stupid, pointless comedy that features some very mediocre humor. The cast here are all terrible, and there's not a lot going on in this film. In fact, there's nothing interesting going on whatsoever on screen. This is a stupid, pointless film that should've never been made. Those involved should ashamed to have participated in such a train wreck of a film. This is a poorly made comedy film that relies on 10 year old style humor to "create" its "hilarious" material. Unfortunately for most viewers, fart jokes are a thing of the past. Every one involved is terrible in their roles, and this film really scraps the bottom of the barrel of comedic ideas. Larry The Cable Guy: Health Inspector is probably the worst comedy film since Biodome and Jury Duty. A pointless and failed attempt at making an audience laugh. The crude humor displayed on screen is unpleasant and unfunny. Saying that this film sucks is not enough to describe this inane and awful comedy. I hated this film, and thought it one of the worst comedies you can watch. Avoid.
Tim Salmons
Super Reviewer
½
Let me start off by saying that Larry The Cable Guy is my favorite comedian - nobody is funnier more often than he is. This movie's rather hit or miss though. It has its hilarious parts that'll have you laughing so hard you wake the neighbors (like when he all of a sudden has the runs and seems to ride the potty), but also many rather corny/unfunny parts. Overall average, hit or miss. I can't imagine Larry being a State employee though, or government.
Jason Owens
Super Reviewer
Larry the Cable Guy: Health Inspector Quotes
There are no approved quotes yet for this movie.